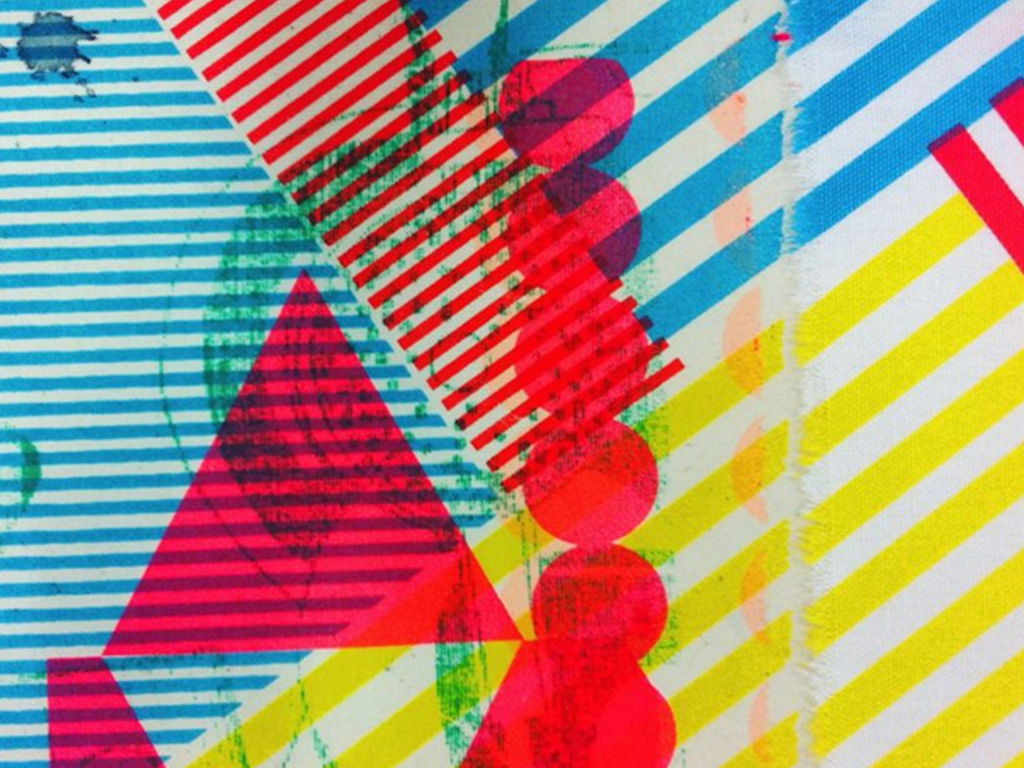 Bright, bold and inspired by the ever-changing face of Indian street culture, Kangan Arora's textiles make a vibrant addition to our Limited Edition cushion collection this spring. We caught up with the designer in her studio to find out about the ideas behind the screens…
Tell us about your design process Kangan… how do you get started?
I start with hundreds of photos I have taken of things that inspire me – it could be windows, people, buildings, markets… Then I abstract forms and motifs from one, colour from another and roughly put them together.
A lot of the designing actually happens on the go in the studio; when I have put two or three patterns I'm happy with on silkscreen, I just have a play around to see how they work together and in which colour combinations. This experimentation and happy accidents are really the fun part of the whole process – it's like unwrapping presents and never knowing what you might receive next.
Everyone has very personal reaction to colour. Are there any colours you instinctively avoid?
I tend to work with quite bold fresh colours as they resonate more with me in terms of where I'm from and what I'm trying to achieve; vibrant prints and patterns reminiscent of the whirlwind India that I left behind.
The colours that I avoid are perhaps more muted, muddy autumnal colours, such as olive greens and rusty terracottas –there are plenty of other designers who occupy themselves with that end of the spectrum!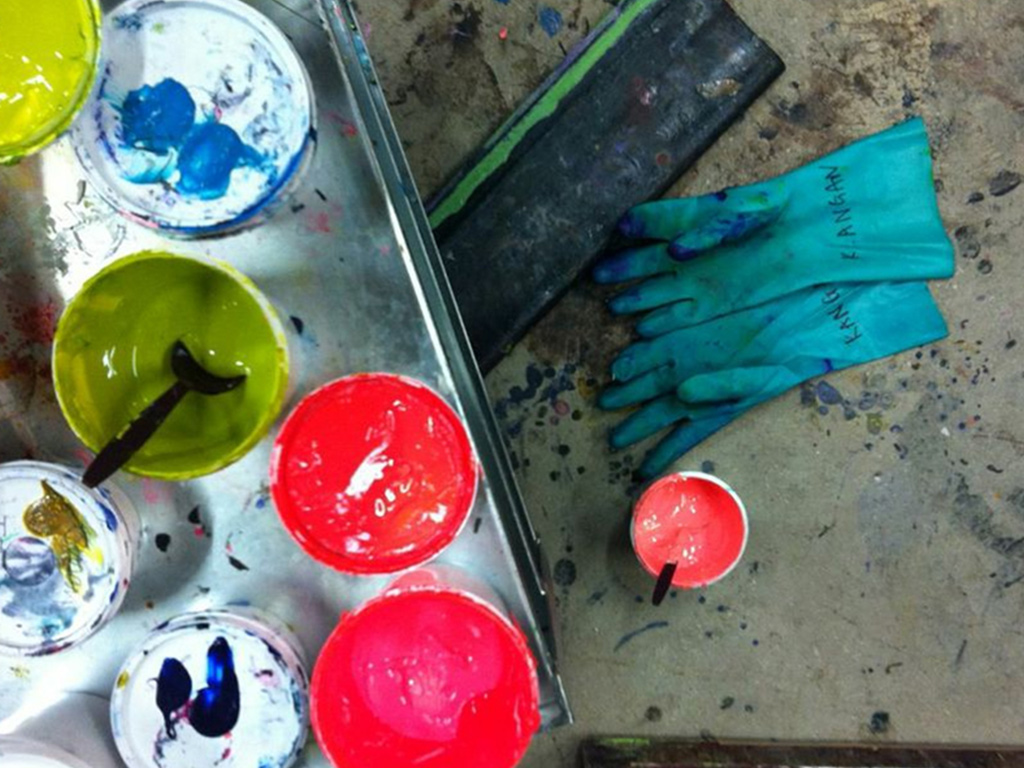 Talking of other designers, do you have a design hero that influences your work?
I haven't any one particular hero but, of the artists and designers I identify with, Marimekko, David Hockney, Doshi Levien and Sonia Delauney all resonate strongly with me. Mostly because of the integral role colour plays in their work; it's thrilling and invigorating.
Do you have any studio superstitions/ design quirks?
I'm convinced my industrial sewing machine (that I share with my studio partner Jonna Saarinen) is possessed – it has a mind of its own and continues to function unassisted so I use my trusted domestic Janome even if it takes me twice as long to sew the cushions!
I also like to add a neon something to pretty much everything I design (for good luck)… luckily my swing tags are a vibrant neon pink!
Tell us about the first textile you designed…
The first fully formed textile I designed was called Cows; it was inspired by an encounter with a narrow street jam-packed full of cattle on a trip to the holy city of Varanasi.
The scared cow roaming the streets is such a clichéd yet memorable image for many visitors to India, it seemed an ideal subject matter to immortalise in a contemporary design. I used screen print, flock and machine embroidery to bring them to life as a cushion. They still bring a smile to my face…
From there, how did you get involved with Heal's Limited Editions collection?
A few years ago I actually used to work in the textiles department at Heal's Tottenham Court Road. I learnt so much about the personality and character that beautiful fabrics have – it's an almost intangible quality that attracts people.
Heal's has a long and illustrious history of supporting emerging design talent and commissioning unique textiles. Creating this limited collection was not only a chance to enjoy the great patronage and support of such an iconic institution, it also felt like coming full circle for me.
Finally, what three words would you use to describe your Limited Edition collection for Heal's?
Colourful, Handcrafted, Quirky.