Following his short residency throwing pots live in store for Design Ireland, we caught up with ceramicist Adam Frew to discuss the inspiration behind his contemporary approach to craft.
Based in Portstewart on the north coast of Northern Ireland, Adam creates handmade ceramic homewares that are functional with a subtle abstract flair. Recreating his studio in the window of our flagship store, we couldn't resist the opportunity to put a few questions to him while he was demonstrating the craft behind his unique range.
—
Tell us about the first piece you ever made?
The first thing was probably a series of huts, using bits of wood and bricks I found in our back garden. My dad was never too pleased and they were quickly dismantled. I guess they weren't very structurally sound, but I was about six years old at the time!
Where did you learn your craft?
I first tried throwing and working in clay at Castlereagh Technical College in east Belfast.  I left school when I was 16 and this was the first time I was really excited about something that I was studying.  I was there for two years and then did a degree at Belfast Art College in Ceramics.  While at uni I took a 'year in industry' and went to Winchcombe Pottery in the Cotswolds for three months before moving onto work for Judith Kuitunen in Finland. This taught me so much about production throwing and I got to know some amazing potters.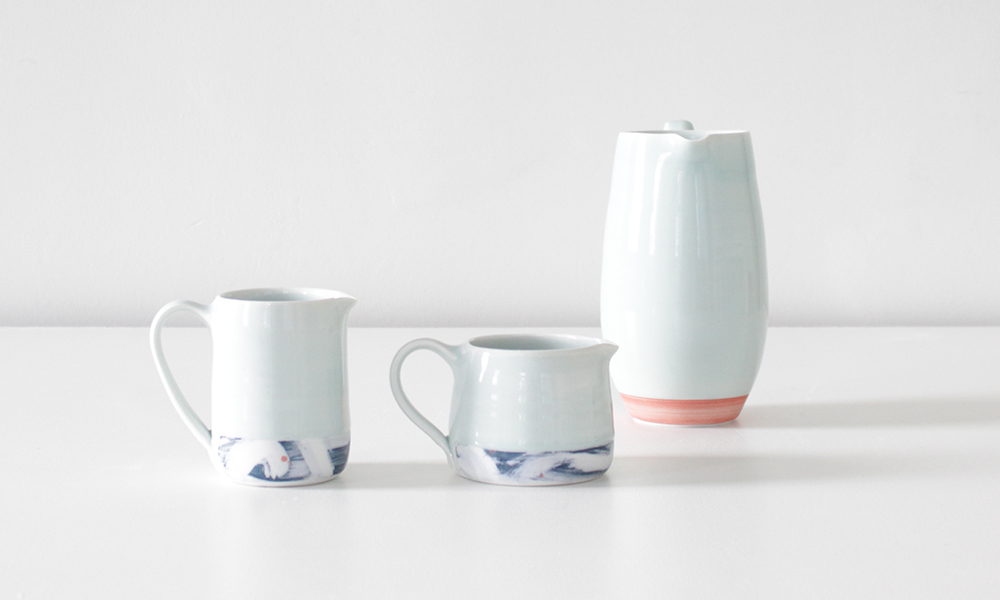 What approach do you take designer a piece? How do you get started?
I am often inspired by cooking and the theatre of serving food, so form and decoration are key to my designs. There is a continuous dialogue from one piece to the next and I'm always thinking of how I might change some aspect of the mark making or palette.
What is the inspiration behind your designs?
Functionality is key when making pots.  I also have an interest in drawing, which is something I did a lot when studying, the difference now being that I draw on my pots making abstract marks.  My surroundings are also a big influence me especially the colors of the wild north coast.
Do you have a design hero that influences your work?
I love the work of Devon based potter Sven Bayer, he makes beautifully simple functional pots. I also love the work of Japanese potter Ryoji Koie, he has so much freedom and energy in his work.

Why do you think events such as Design Ireland are important in promoting Irish design?
Heal's is an amazing platform to showcase contemporary Irish design. It is synonymous with quality craftsmanship, and I think our designers and makers can only benefit from this association.
A selection of Adam's designs are on display within our Tottenham Court Road store as part of our Design Ireland event and are also available to purchase. To keep up to date with our busy calendar of demos, workshops and talks make sure to check our events page by clicking the button below. Browse our extensive collection of contemporary furniture online today.