Nothing sets the scene for seasonal celebrations quite like a festive table. But forget the picture-perfect tablescapes you've seen on Pinterest and Instagram. Instead, consider yours a blank canvas for no-holds-barred creativity, and a chance to express your personality, showcase your tastes and make your guests feel truly welcome. This year, more than ever, it's about investing in a few key pieces, mixing-and-matching with what you already have, and fashioning a table that's uniquely (and unapologetically) yours. Here, we show you how to tablescape your way – and more, besides ­– helping you to create a background against which to eat, drink and be very merry indeed.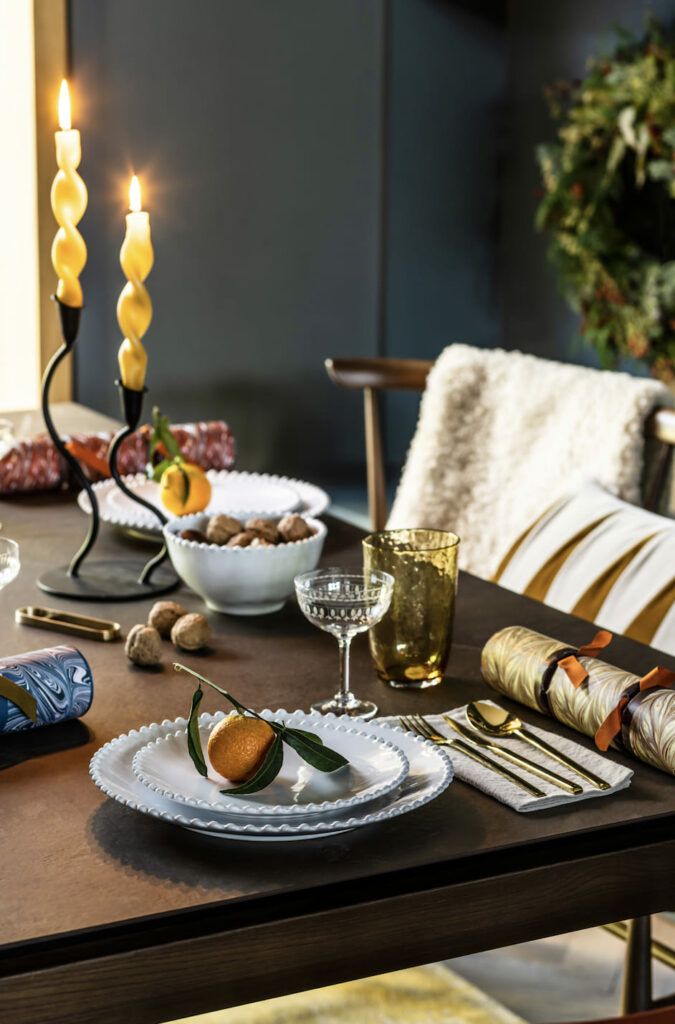 1 Set the stage
A tablescape begins with the table. Not just for Christmas, think of yours as an investment piece to inspire many future gatherings with friends and family, from casual mid-week meals to glamorous dinner parties and themed seasonal soirées. First, consider the size of your space and family – as well as the number of friends you usually entertain – and pick a table with appropriate proportions. It needs to sit everyone comfortably while providing enough room to move seamlessly around it. For small-space living, an extendable table (like Massa, pictured) is just the ticket, scaling-up and down as and when you need it. Next, pick a style that suits your home and tastes: traditional, contemporary or something in-between? A modern style can look spectacular in classic surroundings, and vice versa, while something timeless might be a longer-term investment than trend-led. Lastly, think about the material the table is made of, and whether the surface is tough enough to stand up to life. Massa is heat-, scratch- and thermal shock-proof, while being non-porous.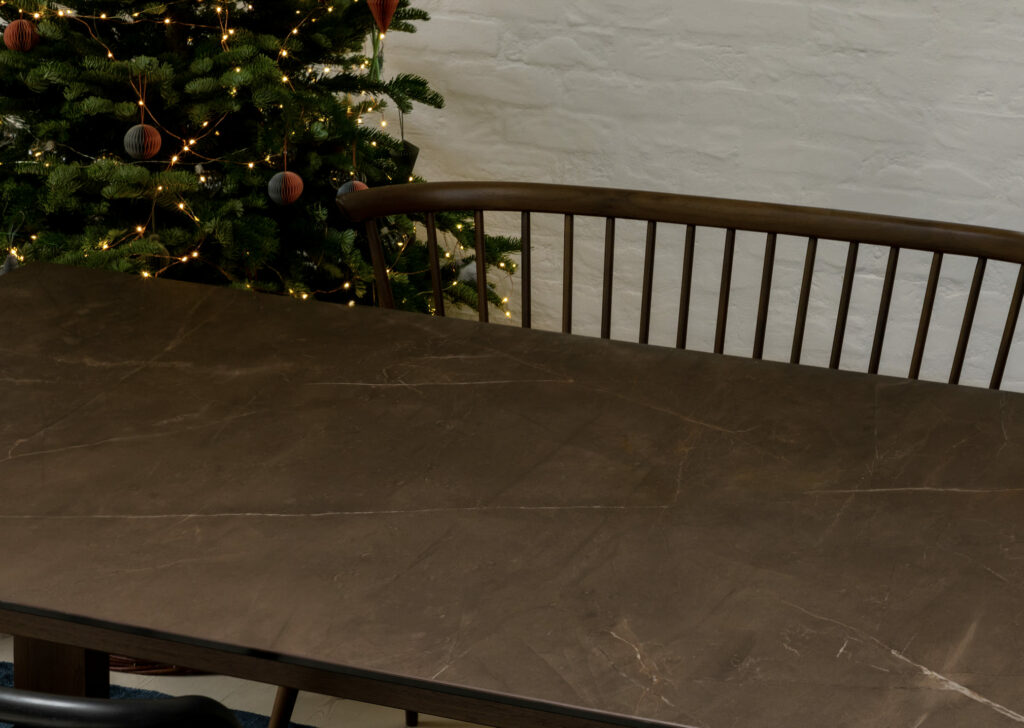 2 Choose your chairs
Next, think about the chairs to tuck beneath the table and seat your guests: matching chairs never go out of style while mismatched couldn't be more in vogue. The Stacking Chair, pictured, is spot-on for maximising space as the outward-facing legs allow it to be stacked vertically when not in use. Better still, its ergonomic design in solid ash timber invites guests to linger a while after dinner is done, preferably with a digestif in-hand. For something a bit different, an iconic Loveseat – also by L.Ercolani – enables guests to cosy up to one another while its gentle curves align with the natural contours of the body. Both are comfortable and create a beautifully eclectic look around the table. Remember: you'll be forgiven for pulling up a few extra chairs from elsewhere in the house at Christmas, too.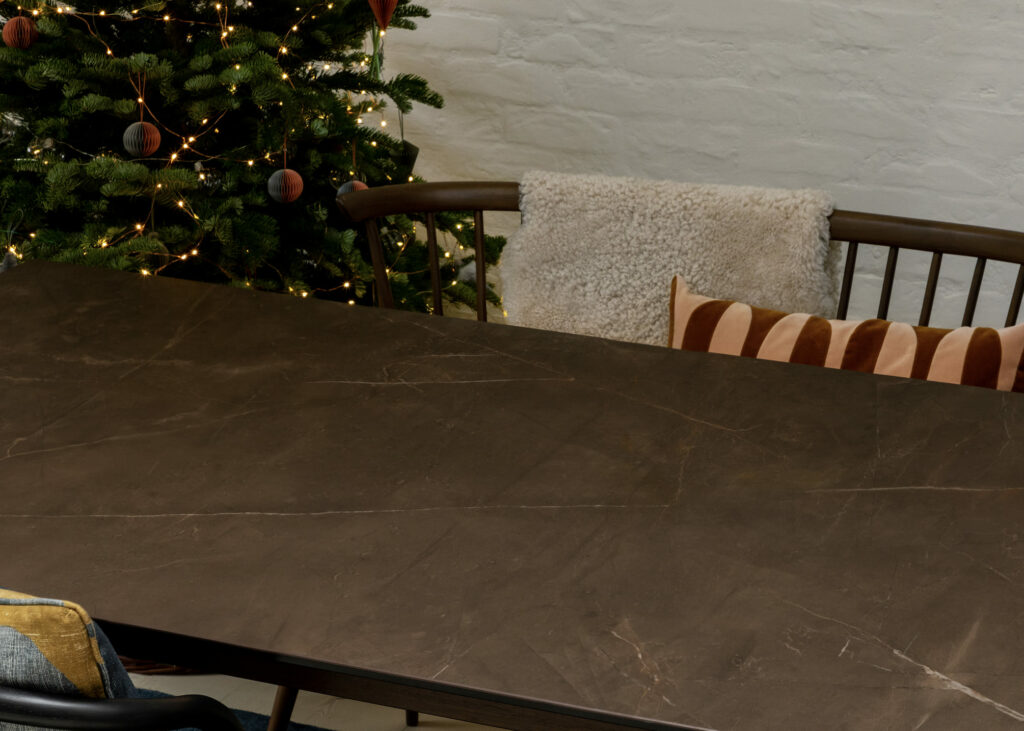 Sheepskin Short Wool Curly Pearl 90x60cm, Christina Lundsteen Paula Cushion 40x60cm, Edinburgh Weavers Circles Cushion 45x45cm by Heal's
3 Add some texture
Once you've chosen your furniture, it's about adding texture for extra warmth, depth and interest, so consider a cushion or two for padding seats or a selection of cosy throws for slinging over the backs of chairs. When it comes to colour or pattern, there are no rules, but why not get inspired by the shades of your Christmas decorations or the style of your crockery and glassware? Choose a few contrasting but complementary textiles for character.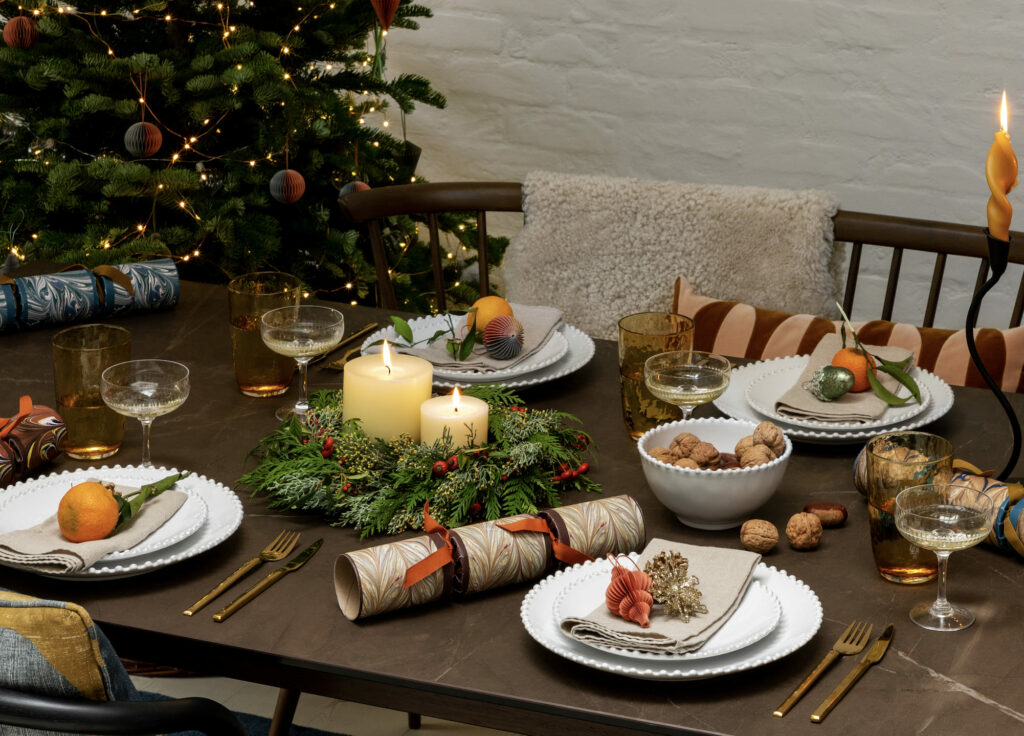 4 Pick your place-settings
When it comes to place-settings, it's all about layering for luxury, starting with plates – we suggest keeping it simple in neutrals with a plate for the starter placed on top of a plate for the main – followed by cutlery (gleaming metallics add seasonal magic) and sparkling glassware of varying heights and styles for the drinks you're planning to serve (water, fizz and wine). Then, it's all about dialling up the drama in details, from statement crackers placed at jaunty angles, neatly-folded (and ironed) napkins spruced-up with a Christmas decoration, plus a centrepiece of faux or natural foliage surrounding pillar candles. Finish with taper capers in different colours for a look-at-me flourish and a bowl filled with Christmassy walnuts to wrap things up.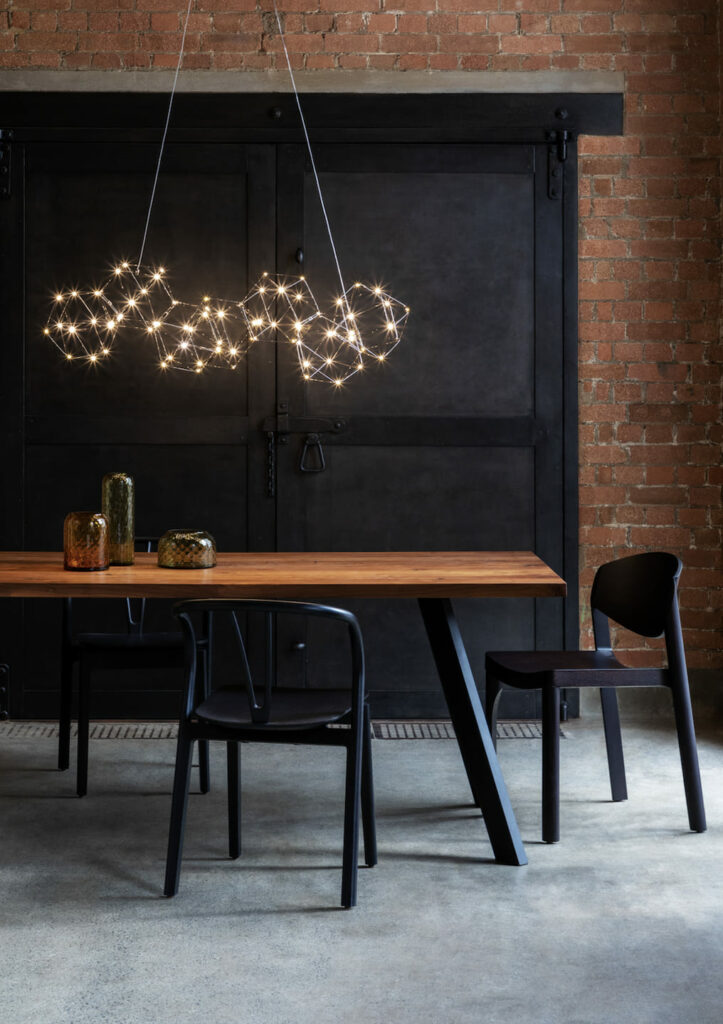 5 Style the space
While a tablescape may begin with the table, it certainly doesn't end there, as the lighting that hangs above and the rug that sits beneath can help to set the stage for a festive feast. Certainly, a gathering of nearest and dearest provides a timely reason to refresh both, so look at statement lighting that will make for a conversation-starter while casting just the right light for dinner and drinkers (a flattering glow, naturally). Styles like the Balance Linear Chandelier or Supernova LED Long Pendant Light should do the trick. For underfoot, consider something hard-wearing that'll endure heavy-traffic while dressing-up the space at the same time, such as the Hadschlu Rug by Louis de Poortere. Patterned or textured, too, can hide a multitude of sins and withstand a spill here or there…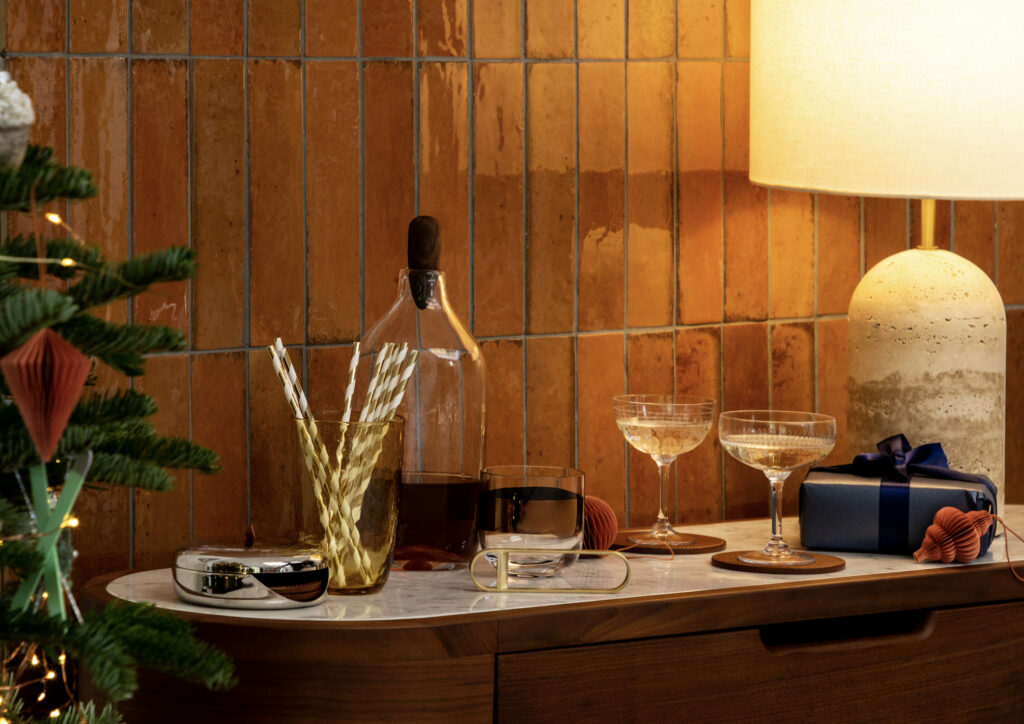 6 Raise the bar
Nobody wants to be stood around all day serving drinks. Fashion a sideboard into a drinks station by assembling an assortment of wine, spirits and mixers; a variety of gorgeous glassware; a bowl of garnishes and a bucket of ice; and a few decorative touches like Christmas decorations and presents. A statement lamp at one end adds further style and a warm glow. Then, simply announce that the bar is open and allow guests to help themselves!