Welcome the new year by shaking things up for the season ahead. Thankfully, you don't need to get the paintbrush out – or throw out what you have – to give your house a whole new lease of life this winter. Likewise, there's no need to buy everything from scratch – a few key pieces here and there can completely transform a space and reinvent a room. Here, we round-up the clever hacks to refresh your home without redecorating, as revealed by the expert team at Heal's.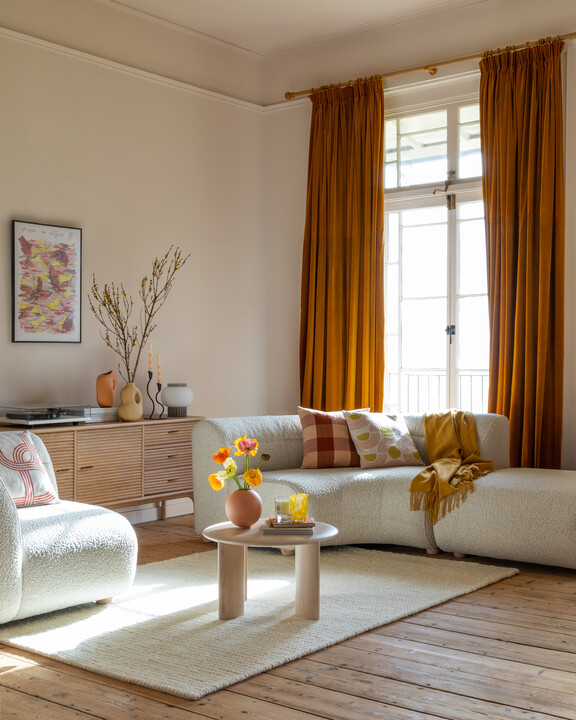 Make a statement
Our ethos at Heal's is to 'buy well and buy once' – across everything we curate and create, from designer pieces to own-brand – so rest assured a piece of furniture bearing our name is a solid investment. Not only is everything built to last, but designed to transcend seasons and trends, too, meaning pieces can be enjoyed for years to come or handed down to the next generation. With that in mind, think about changing a big-ticket item in a single room to make the biggest impact, whether a sofa, bed or dining table. As a centrepiece around which everything revolves, new furniture can dramatically change how a room looks, not to mention how you use it. Our stylish Lilli sofa is a sound choice: made using individual modules, it can be customised according to your home and taste, while being reconfigured when you choose. Better still, its curved corner design saves on space while being effortlessly timeless, and the frame can be upholstered in a selection of sumptuous Heal's fabrics, including cosy bouclé. Enduring style, guaranteed.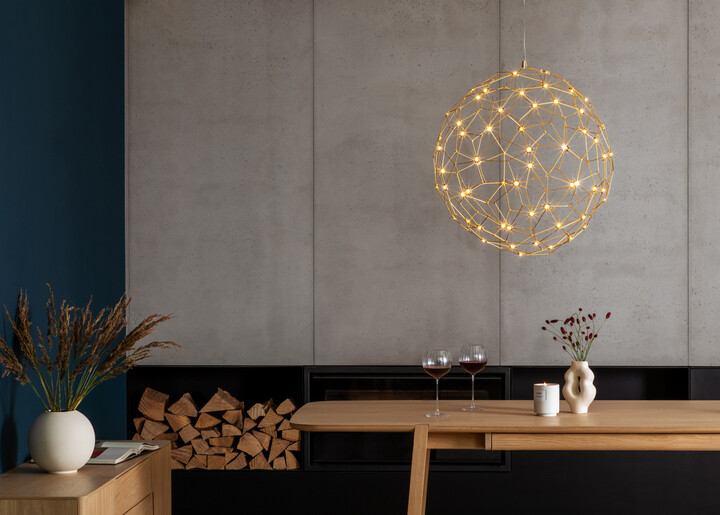 Let there be light
A statement light can give a space a completely new lease of life – whether it's because of stand-out design or spectacular illumination. Select a fixture that has pride of place – above a dining table, behind a sofa, or over artwork – to reset the scene; or simply update a corner with a lamp that switches things up. When it comes to pendants, Supernova brings the drama with cutting-edge technology and a space-age design, while Saber is as practical as it is beautiful with seven tubular light sources that can be adjusted to create a beautifully random effect or a considered spiral cascade. Meanwhile, reading nooks or work desks can be completely reinvented with a marble and brass Selena LED Table Lamp or asymmetrical wooden Verso Floor Lamp, adding interest without dominating rooms. Bright ideas indeed.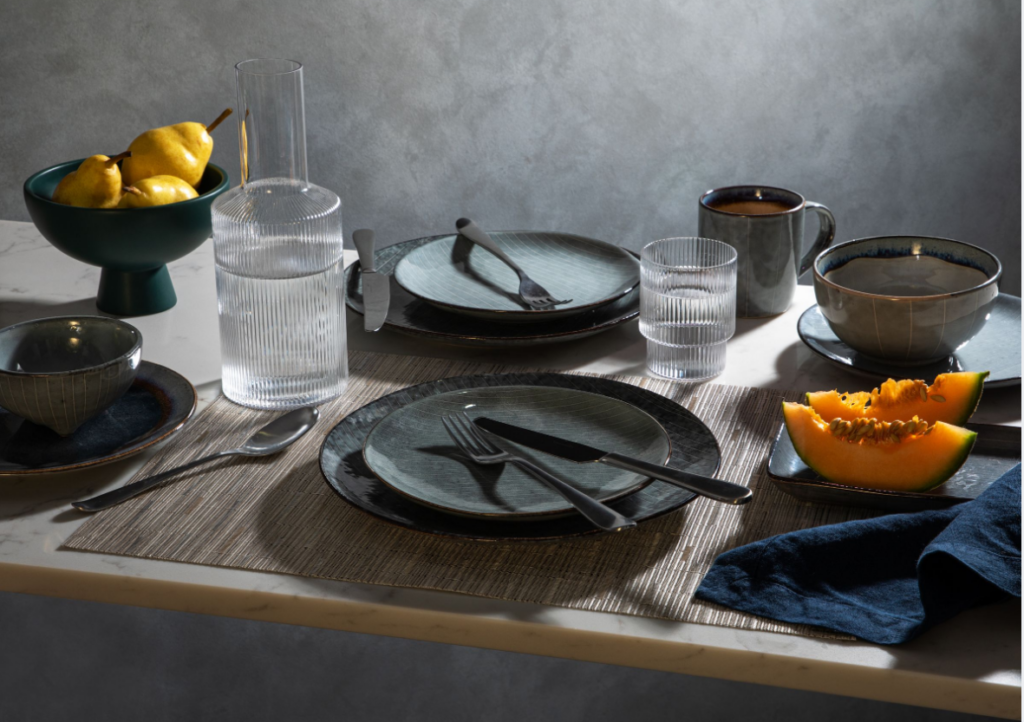 Nordic Sea 12 Pieces Box Set by Broste Copenhagen; Ripple Glassware Clear by ferm LIVING; Linen Napkin in Midnight Blue by Heal's; Santol Cutlery 42 Piece Set Stainless Steel by Charingworth
Turn the tables
Sometimes, little touches can make a big difference, and case in point is tableware. Requiring significantly less outlay than redecorating – but garnering similar reward – swapping out crockery, glassware or cutlery for the new season can completely overhaul your dining room and the occasions you host in it. Tired of trad? Choose a contemporary set – hand-glazed Nordic Sea in a grey-blue tone, for example – to update your look in an instant. Team with sophisticated Ripple Glassware and contemporary Santol Cutlery to add further modern accents. Remember: you can never have too much covetable tableware to collect over the years, so use January as a chance to top-up (and change it up) for 2023.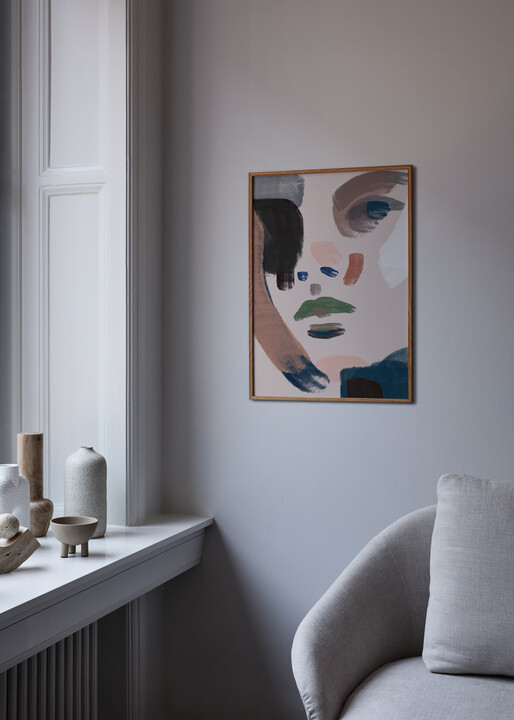 Remix your artwork
Make your walls talk even more by rethinking artwork galleries. Swap pictures around – both within and outside of their existing groupings – and assemble in new and interesting shapes and rooms. Bored of prints going up the stairs? Clear the decks. Fancy something to look at from the sink? Put something up. There are no rules when it comes art – think outside of the box with what you already have and throw in a few new pieces to keep things fresh. Our eclectic selection of prints from Paper Collective – bringing together designers, artists and illustrators from around the world – is sure to inspire with a range of wall art for any style and space. Remember: hanging pictures isn't the only way to display. Try leaning your art against walls or displaying on furniture to keep things interesting.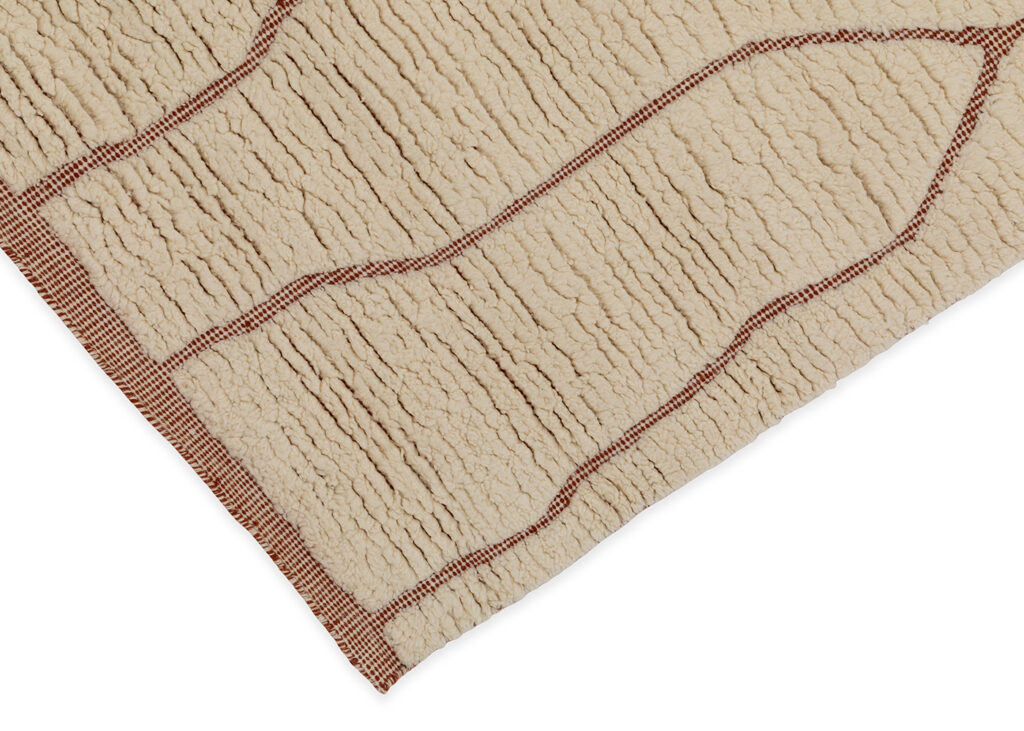 Top-up textiles
From a smattering of new scatter cushions to a different rug underfoot and a fresh throw over the back of a sofa, textiles have a surprisingly transformative power. Better still, it's one of the easiest – and most economical – updates you can make to freshen things up, fast. Cosy up for the winter with one of our classic Velvet Quilts in emerald-green to add richness and depth; lay down a luxurious floor covering with the hand-knotted Ziri Rug by Linie Design for texture and warmth; and style-up the sofa with a striking Edinburgh Weavers Circles Cushion or three for added comfort and interest.