The fourth edition of the Heal's Furniture Pub Quiz is here.
As always, every question can be answered with one of the multiple-choice options. Take note of the images as well as they may help to jog your memory. If you enjoy yourself, why not take one of our previous quizzes. Click on these links to find the first, second and third quizzes.
Once you've decided on your answers, scroll to the bottom of the page. There you'll discover the answers and some design facts.
Furniture Pub Quiz Questions
1. Which female designer is Le Corbusier known for collaborating with?
a) Charlotte Perriand
b) Patricia Urquiola
c) Gae Aulenti
2. Which manufacturer crafts the IC Lighting series?
a) Flos
b) Louis Poulsen
c) Gubi
3. What country was Gio Ponti born in?
a) Spain
b) Italy
c) Argentina
4. What year was Heal's founded?
a) 1810
b) 1855
c) 1905
5. Which of the below chairs did Arne Jacobsen not design?
a) Series 7 Chair
b) CH24 Wishbone Chair
c) Drop Chair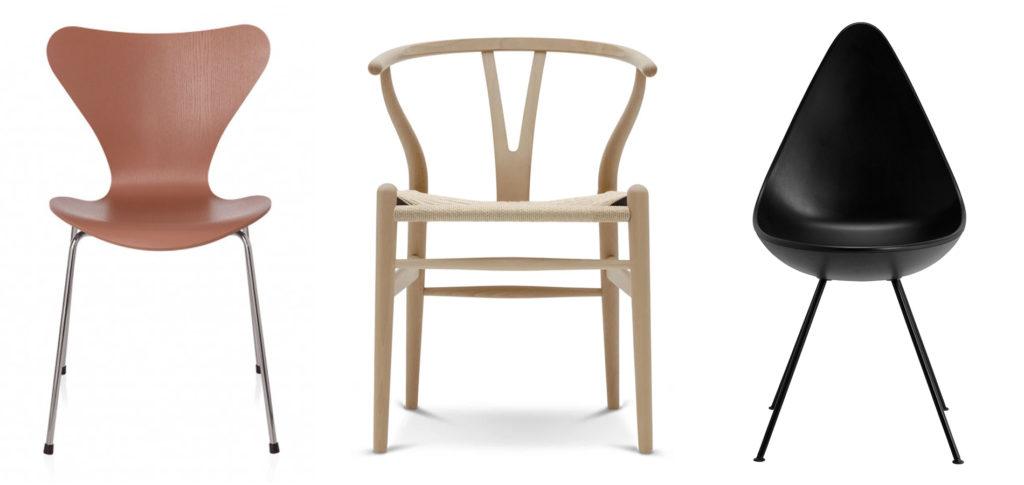 6. What inspired Alexander Girard to create his wooden dolls?
a) Fairy tales
b) Children's toys
c) Folk art
7. What is Tamegroute?
a) A village in France
b) A type of pottery
c) A design house
8. How are Ronan and Erwan Bouroullec related?
a) Brothers
b) Father and son
c) Cousins
9. Vico Magistretti is known for designing…
a) wooden chairs
b) garden furniture
c) lights
10. Who designed the Karuselli Lounge Chair?
a) Eero Saarinen
b) Yrjö Kukkapuro
c) Alvar Aalto
Furniture Pub Quiz Answers
Want to know how you did? Find all the answers below as well as snippets of interesting information.
1. A) Charlotte Perriand
That's right, Charlotte Perriand was known for working alongside Le Corbusier and his cousin, Pierre Jeanneret. Initially, Perriand applied for a job at Le Corbusier's studio but was rejected. However, persuasion from Jeanneret convinced Corbusier to offer her an interior designer position at his studio. And so began a long and fruitful partnership.
2. A) Flos
Designed by Michael Anastassiades, the IC Lighting collection is crafted by prestigious manufacturer Flos. Dino Gavina and Cesare Cassina founded Flos in the 1960s and is renowned for experimenting with innovative materials. The award-winning design house has collaborated with plenty of leading designers, including Achille Castiglioni, Philippe Starck and Michael Anastassiades.
Find out more about the IC Light collection here.
3. B) Italy
You may have guessed from his name that Gio Ponti was born in Italy. With a career that spanned over six decades, Ponti is known as an architect, furniture designer, artist, teacher and writer. His name is commonly associated with post-war Italian design, something he helped to renew after years of disruption. He was also one of the brains behind the coveted Compasso d'Oro prize.
4. A) 1810
That's right, Heal's opened its doors over 200 years ago. To put that in perspective, 1810 was the same year Beethoven composed Für Elise, Napoleon Bonaparte divorced Josephine and King George III was declared insane. We started out making feather-filled mattresses before venturing further into the history of design.
Read more about the history of Heal's here.
5. B) Wishbone Chair
It was actually Hans J. Wegner who designed the iconic Wishbone Chair. Arne Jacobsen was more renowned for his work with innovative materials such as steel and plywood. The Series 7 Chair and the Drop Chair are excellent examples of this. These enduring classics remain ever-popular today.
6. C) Folk art
Despite being renowned as an architect, furniture and textile designer, Alexander Girard was also one of the world's most important folk-art collectors. His extensive collection of objects and textiles was compiled over years of travel. The influence of folk art can be seen throughout much of Girard's work.
7. B) A type of pottery
Named after the small Moroccan village it originated in, a vivid green colour means Tamegroute pottery is instantly recognisable. Over the years since it was created, the Tamegroute crafting process has been passed down from generation to generation. It begins at the River Draa where potters source and shape the clay. It is then hand-dipped in a glazing mixture that lends it a distinctive green colour.
8. A) Brothers
Brothers Ronan and Erwan Bouroullec make up the French design duo. Since they founded their eponymous design studio in 1999 the brothers have gone from one success to another. They have received a plethora of coveted awards, including the Panerai London Design Medal, a Red Dot Award and multiple Wallpaper* Design Awards. You can also find their work in museums across the globe, including MoMa in New York and London's Design Museum.
9. C) Lights
With designs like the Atollo Table Lamp under his belt, of course Vico Magistretti was a master of lighting. The Italian designer is known for experimenting with shape, form and function and was considered ahead of his time. In recognition of his skill and success, he is the recipient of multiple Compasso d'Oro awards.
10. B) Yrjö Kukkapuro
Finnish architect and designer Yrjö Kukkapuro is most well known for his Karuselli Lounge Chair. Modern art museums across the globe feature the chair in their permanent collections, including New York's MoMA. In 1974, The New York Times even nominated it as the world's most comfortable chair.