For centuries marble has been a key feature in opulent interiors. Not only does marble create a sense of grandeur, it's also incredibly practical and durable. So, it's no wonder that you may want to decorate your home with marble. Our curated article shows you how to incorporate the must-have material into your design scheme.
1. Make marble the centrepiece
Choosing marble for a dining table, kitchen worktop or floor is a great way to make a statement with the material. It brings a timeless elegance to a room and can make it feel incredibly luxurious when used correctly.
Marble's durable nature makes it a worthwhile investment for everyday family life. In many Italian homes, locally sourced white Carrara features prominently on worktops, counters and coffee tables. That's because it's a robust, durable material that stays cool and will look beautiful for years to come.
This dining table has a curved white marble table to come.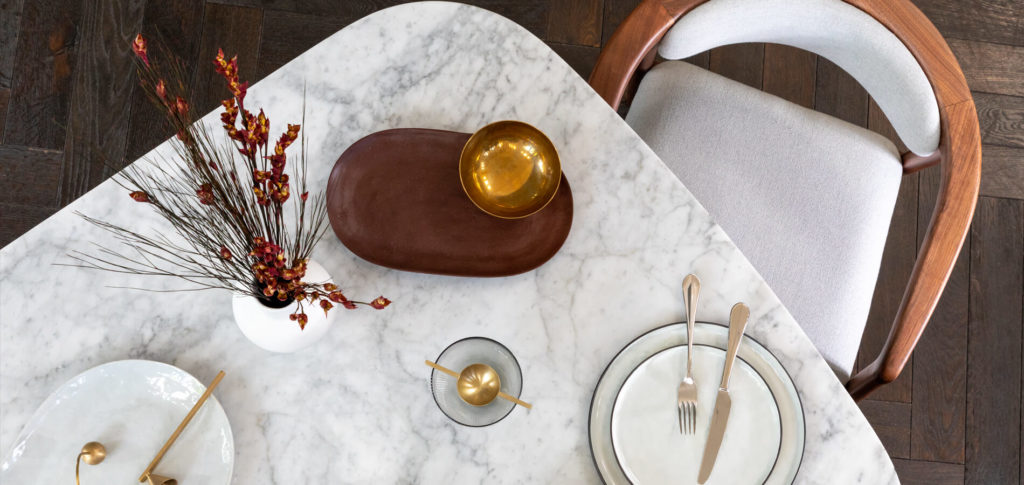 This dining table has a curved white marble tabletop that looks elegant in both modern and traditional rooms. Paired here with dark wooden floors and furniture, it brings a little more light and texture to the space. By keeping the accessories within the same colour scheme, the marble is encouraged to take centre stage as the star of the show.
2. Make light use of marble
Unlike other more brittle types of stone, marble can be carved very thinly while keeping a
solid shape. Lighting designers have taken advantage of these natural properties and use marble to create decorative diffusions of light. Arrange a series of marble pendant lights in a cluster to make a statement or choose a marble lamp base for a more subtle infusion.
Marble is also often used to bring a more polished edge to rustic or industrial interiors. Here, Tom Dixon's Stone Pendant Light brings opulence and warmth to a concrete interior. Paired with polished brass accents, the light elevates the room even more.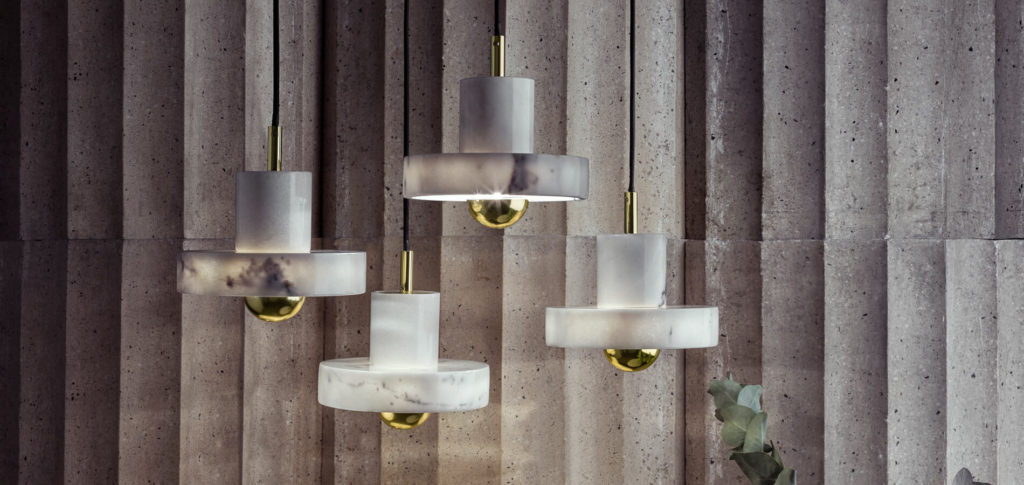 3. Invest in key marble pieces
Let's face it, decorating your home with solid marble furniture, walls or surfaces can be a big investment. If you want to inject a luxurious marble aesthetic into your home without breaking the bank, we suggest investing in some key pieces.
Marble has been 'on trend' for decades, so you can rest assured that your investment furniture won't go out of style anytime soon.
Marble coffee tables are a great option because they stand out as an elegant centrepiece in the living room. Whilst this table's modern form wouldn't look out of place in a cutting-edge, minimalist scheme, it works just as well in a homely sitting room. Pair it with some modern soft furnishings, colourful accessories and it will lend an added depth to your room.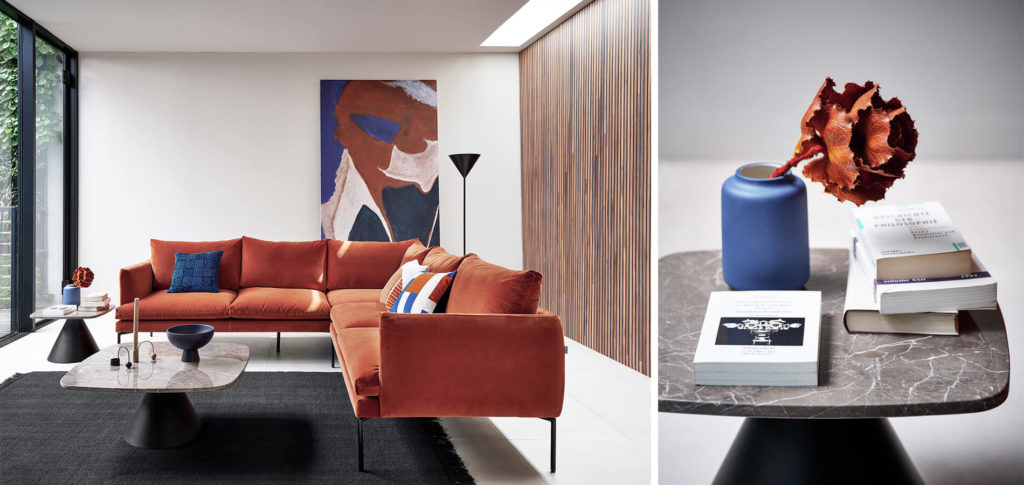 4. Pair marble with woods
In a room dominated by wood, you might be at a loss for what materials to pair it with. Luckily, marble could be the answer. Marble's natural veined pattern adds an elegant contrast to a room setting dominated by solid woods.
Where wood can offer a more rustic, traditional appeal, the addition of marble balances it out and brings a sophisticated, polished edge. White marble and walnut make a particularly sophisticated combination, however light woods also compliment the natural material. If you're looking to make a real statement, we suggest considering a darker marble with dark wood. The result can be incredibly striking.
Marble also looks stunning when accenting a piece of wooden furniture. This white marble and walnut console table exudes sophistication and elegance. Plus, it cleverly pulls together the white walls and dark herringbone floors.
5. Accessorise with marble
If you're looking for a more subtle injection of marble into your interior design scheme, marble accessories could be the answer. From trays and coasters to bowls and vases, marble accessories will bring that luxurious edge into your space without breaking the bank. Marble is also a great choice when used for serving dishes and offers many years' service compared to wooden chopping and charcuterie boards.
Seduced by its functionality and style, more and more designers are returning to marble to create accessories. They're carving the ancient material into contemporary shapes and introducing modern solutions. For example, Vitra's L'Oiseau shown here. This special edition accessory was reimagined in marble and brings a luxurious edge to Ronan and Erwan Bouroullec's charming design.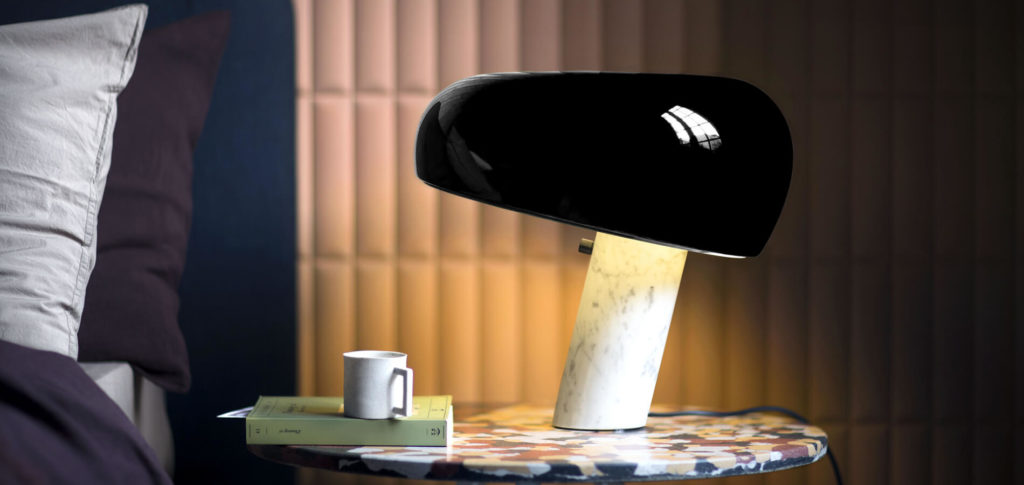 Check out our collection of furniture to find the perfect marble design for your home.