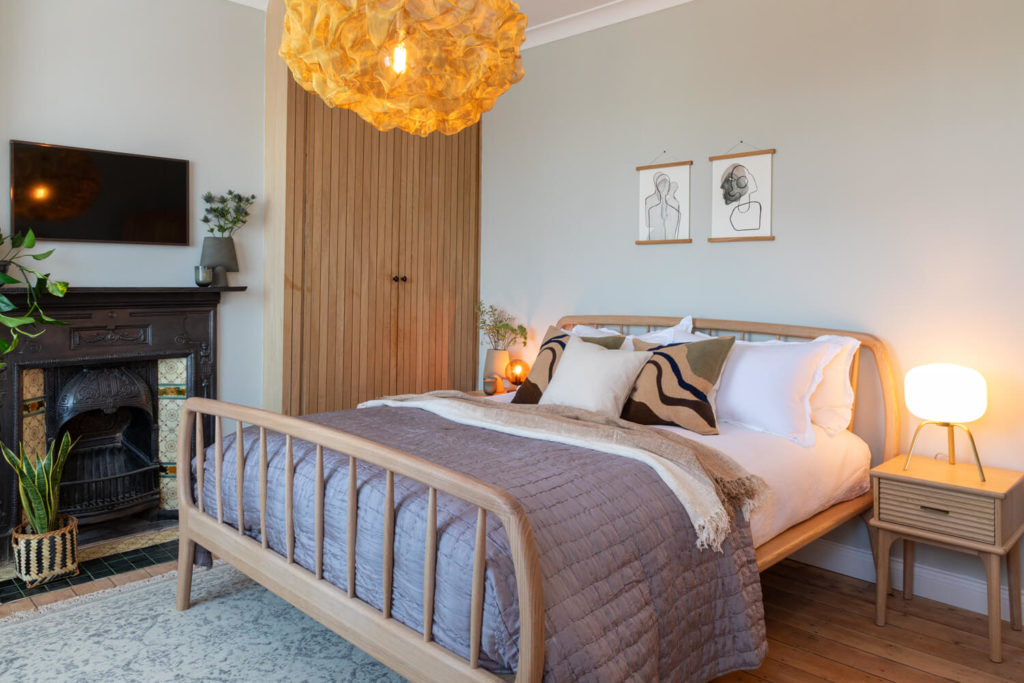 From bees in the walls to a birds nest in the ceiling, renovating a home can be full of surprises. At least that's what Courtney and Lanre (@milliennialspad) found in their master bedroom when they began renovating their home. It can be difficult at times to see how everything will piece together in amongst the dust and destruction when you're in the thick of a renovation project, but when you start to see your vision come to life, well, there's no better feeling. Courtney and Lanre collaborated with designer Nicola Smith from the Heal's Interior Planning Service, to bring their tranquil and inviting bedroom to life.
We caught up with Nicola and Courtney to find out all about the design process, the key pieces and how to get the look of this calm yet captivating set up.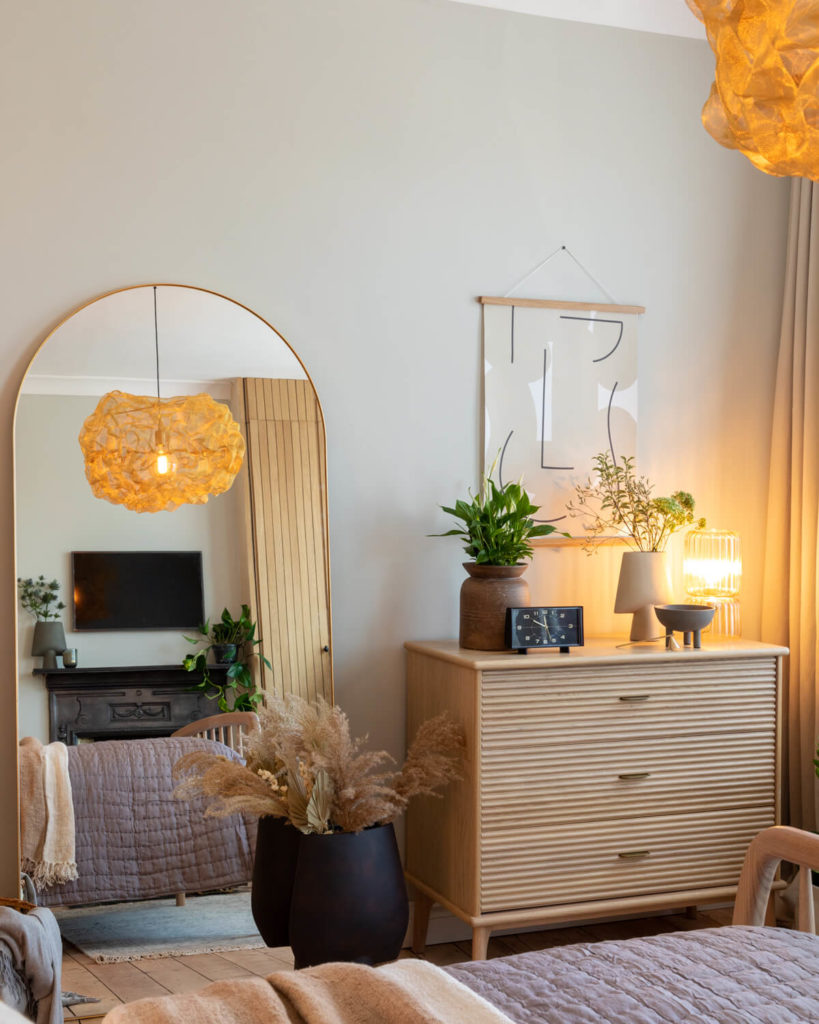 So, let's start at the very beginning. Nicola, what are the first steps when it comes to designing a space? We'd love to get some insight into how you approach a full room design.
N: We start with the shape, size and layout of the room. We look at how the space could work and then how it can work based on the customer's needs and requirements. Firstly, we consider the main pieces to the room, so for this it was easy- it was the bed. Naturally the room layout then lends itself around this. We wanted to make sure the bed was in the best position to take full advantage of the already built-in features in the room- the fireplace, the wardrobes and the bay window.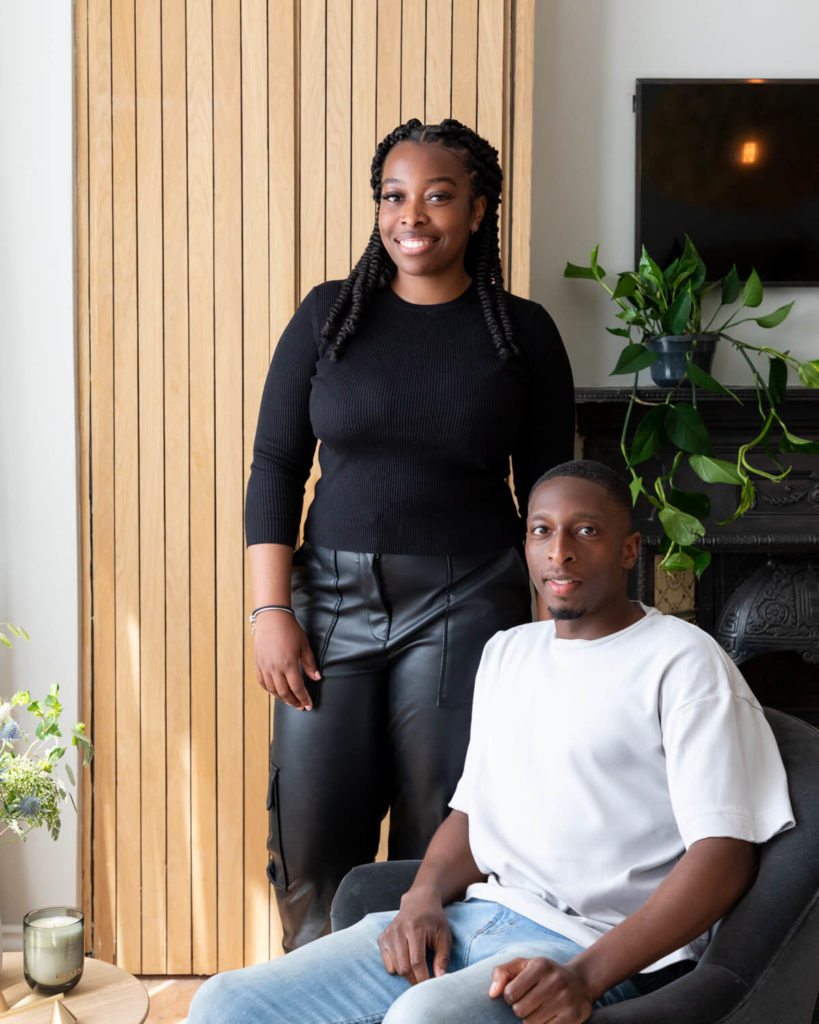 Courtney, tell us about your renovation story. When did it start and how have you found the process so far?
C: It all started back in November 2019 before we knew the country was going to go into lockdown a couple of months later. We put our offer in on a house that needed A LOT of work. We finally moved in August 2020, the longest wait of our lives and that's when the fun began! We decided that we would focus on one room at a time so that we wouldn't feel like we were living in a full renovation. The main bedroom had to be tackled first as it had a hole in the ceiling with a bird's nest living in it and would leak every time it rained! So, the roof was the first job on our list to get repaired, however, as everyone knows tradesmen are not as reliable as you would hope, so it was a waiting game for at least a month. From the moment the roof was fixed we used every little spare time we had taking the room back to brick so our builder (my Dad) could rebuild the walls again and we could get on to making it feel like a bedroom. I don't remember the exact time frame it took to complete the main bedroom, but it was not quick at all, as we were doing a lot of work ourselves. The floor sanding, the building of the wardrobes and restoring the fireplace. So far, we are still enjoying renovating, we love looking back on pictures and seeing how far we've come, and have picked up a lot of new skills, each room gets easier and easier as we now know what to do and in what sequence we should do things in. We may get the renovation itch as soon as this house is finished, who knows!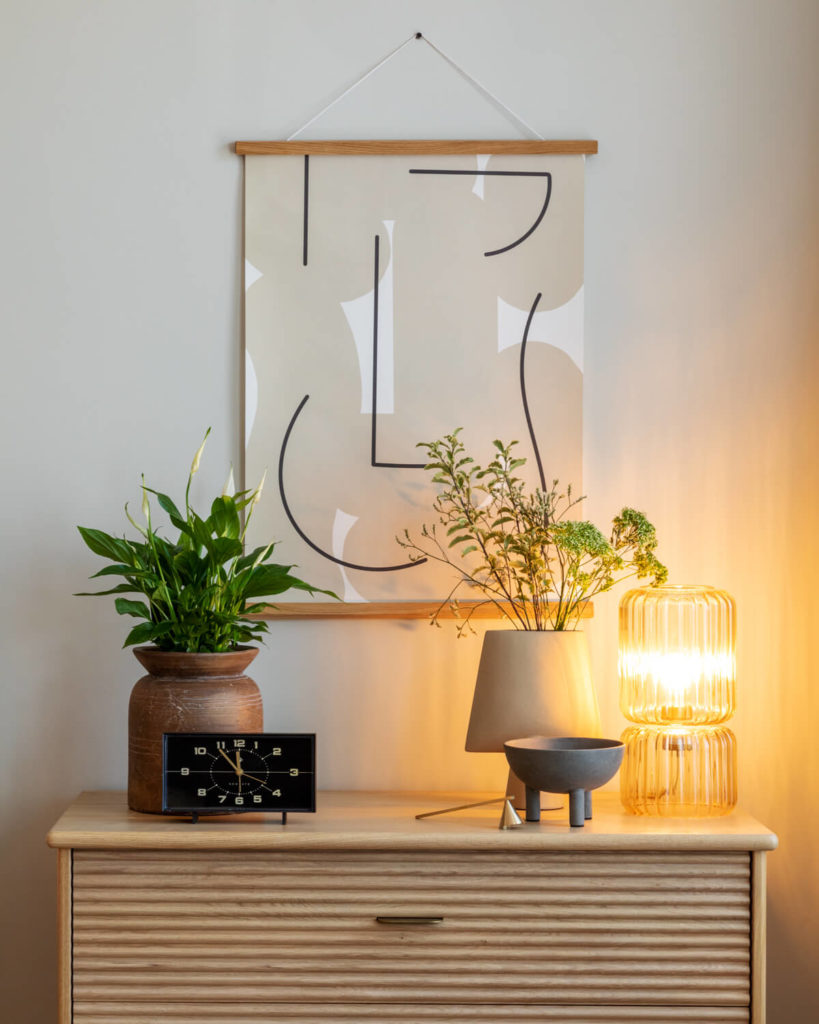 How would you describe your style? Do you both have the same taste? If not, how have you found the balance between your styles? Were there moments where you didn't agree on the style or aesthetic during the design process?
C: I don't know how I would describe my style, I just know what I like and what I don't like. I LOVE wood, I feel myself gravitate to anything that is made of wood when scrolling through Pinterest, maybe I fit in the mid-century modern style category if I had to choose. Lanre on the other hand likes the modern luxury style he will be happy with an all black and white room with gold details. The more we looked at rooms on Pinterest the more he warmed to wood pieces, so when we created a mood board just after we moved in it was a room we would both be very happy with. During the design process the only thing we did not agree on was the colour of the Elgin chair; Lanre wanted a dark green colour with black legs and I wanted beige and gold legs, after seeing the fabric and the room put together on a mood board I was won over and we decided to go with Lanre's choice.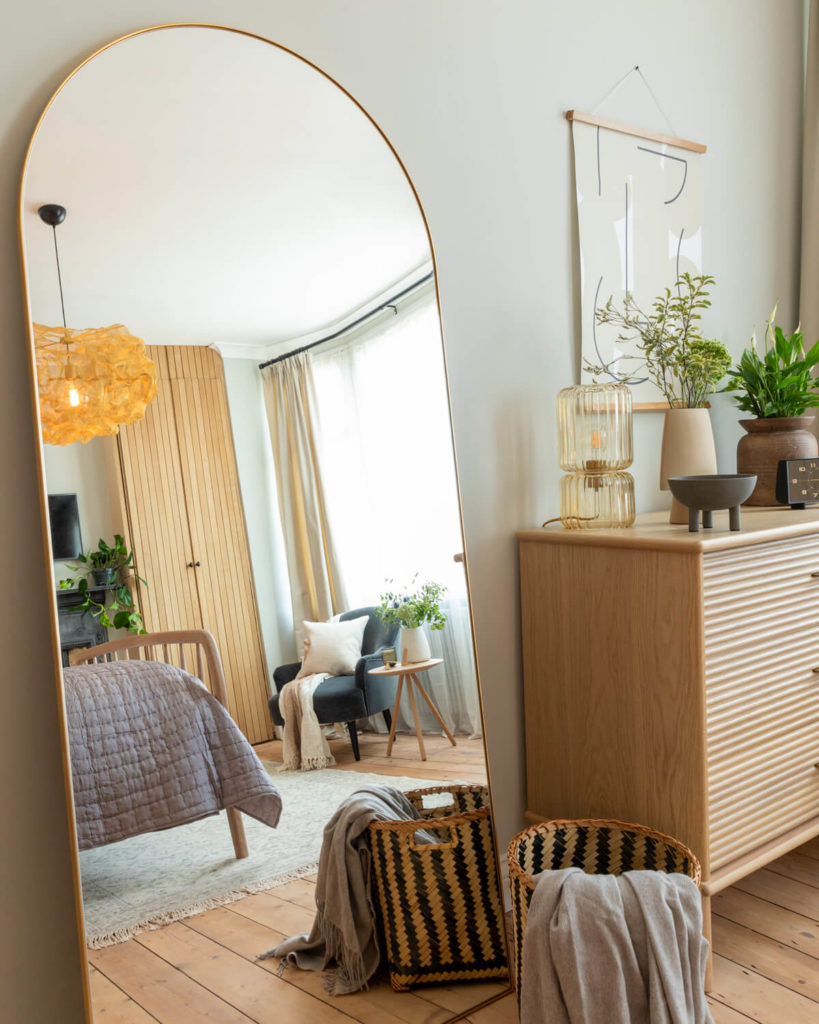 Nicola, did you find that Courtney and Lanre had different styles? If so, how did you find the balance between the two different styles?
N: I wouldn't say they had different styles-more different views. Both of them liked the same pieces but it took a little warming up on both sides to hit a happy medium and compromise on what everyone liked. This is the best part of any interior when its more than one person living in it. Interiors should reflect personality and individual taste, it's what gives them life and character otherwise they can be flat. I think we nailed it with all the pieces for them both.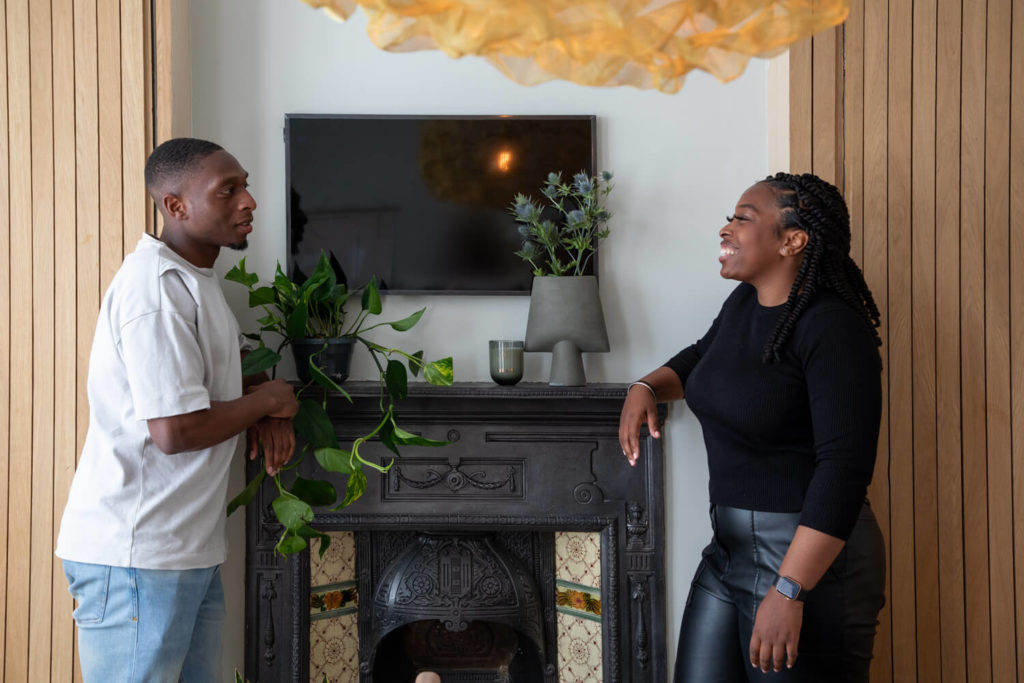 Were there any key pieces that stood out to you that you knew would be perfect for the space?
N: The Cartmel bed and the Kendal range. The Cartmel bed offers a beautiful, simple organic look and feel to it with its shape and soft edges. Due to the shape of this room, it was important we added pieces that complimented it and wasn't too boxy or square. Courtney and Lanre where very open with what they liked but equally open to suggestions of pieces they may not have looked twice at initially. For the bedsides and the chest of drawers it was evident that the Kendal range was the one. The groove detailing in these pieces reflected the built-in wardrobes that they had built. It's like they were made specifically for this space.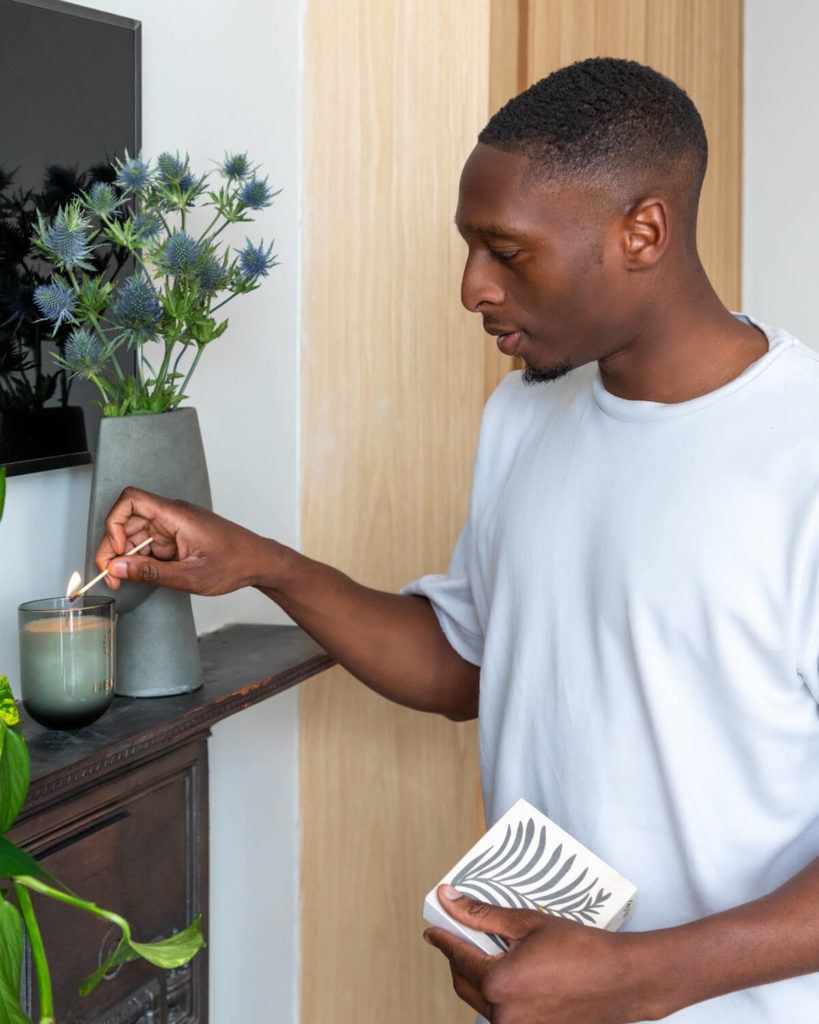 Courtney, how did you and Lanre find working with our IPS team? Is there anything in particular that you found helpful when designing your space? Were there pieces in the scheme that weren't something you thought you'd have chosen but ended up loving?
C: We loved every second of it! Nicola was very attentive, she listened to what we liked and came up with the most amazing ideas, she also knows the products very well, so was able to give us alternatives when needed. We found going into the showroom and seeing the items in person a huge help. For example, you don't get to see the full beauty of the Cartmel bed online, so seeing it in person made us both fall in love with it. The Heat pendant light for me is the piece I would have never thought I would have in my bedroom, but I do. It's the first thing people comment on when they see our bedroom; it's such a statement piece on its own.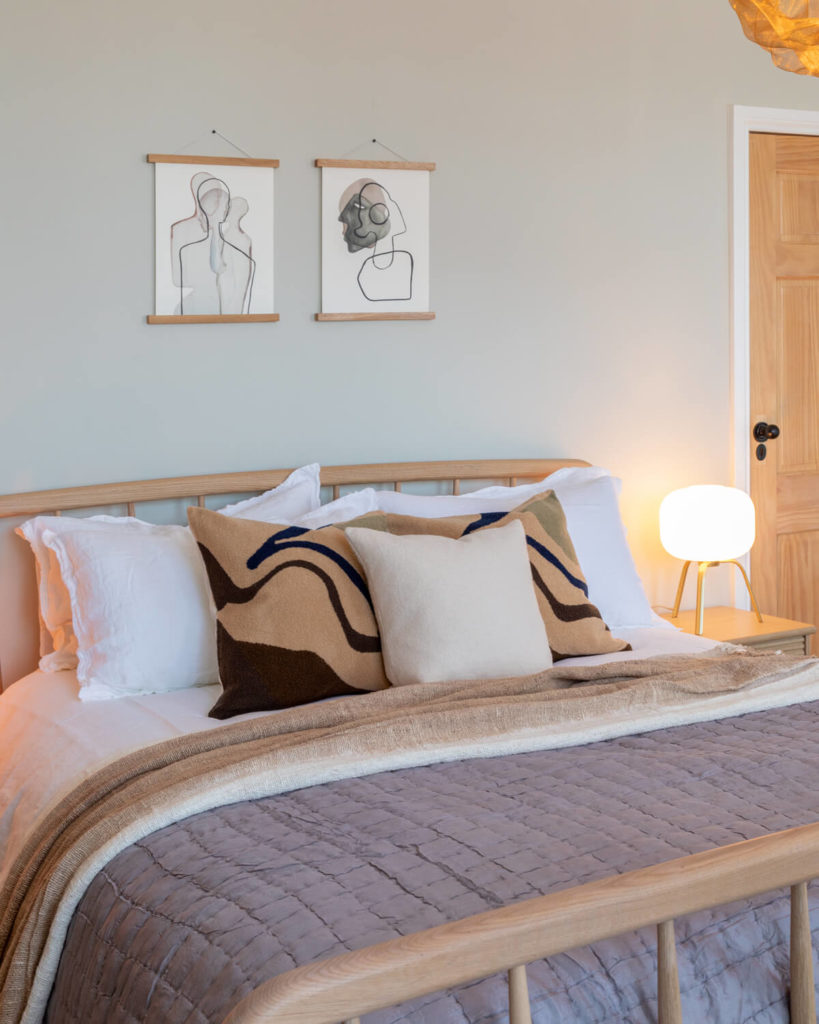 Nicola, how would you describe the finished space?
N: A calming and understated piece of heaven that oozes a mix of modern and scandi influences throughout.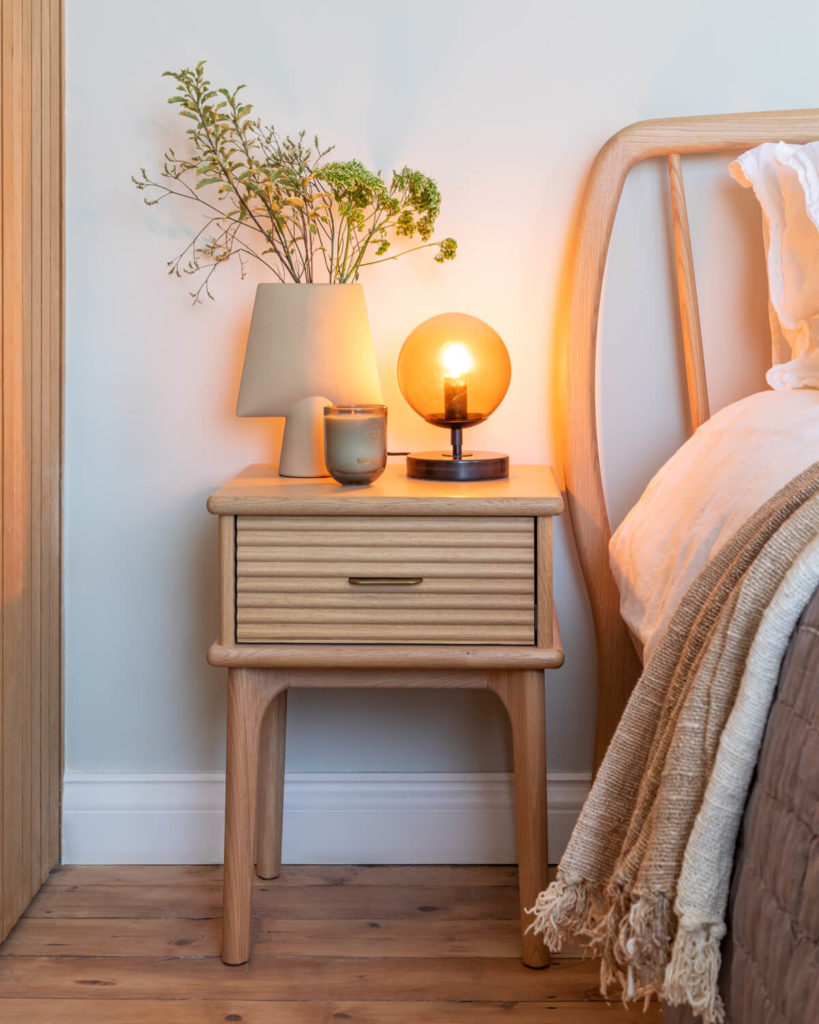 And Courtney, how would you and Lanre describe the finished space?
C: Zen. Calm. Tranquillity! A space we thought we could only see in a show room or on TV, we couldn't have imagined anything better. You can't walk into the room and not be happy or wake up in the room and not start your day with a spring in your step. There are little touches that complete the room like the pictures on the wall and the lamps. Everything we could have hoped for and more!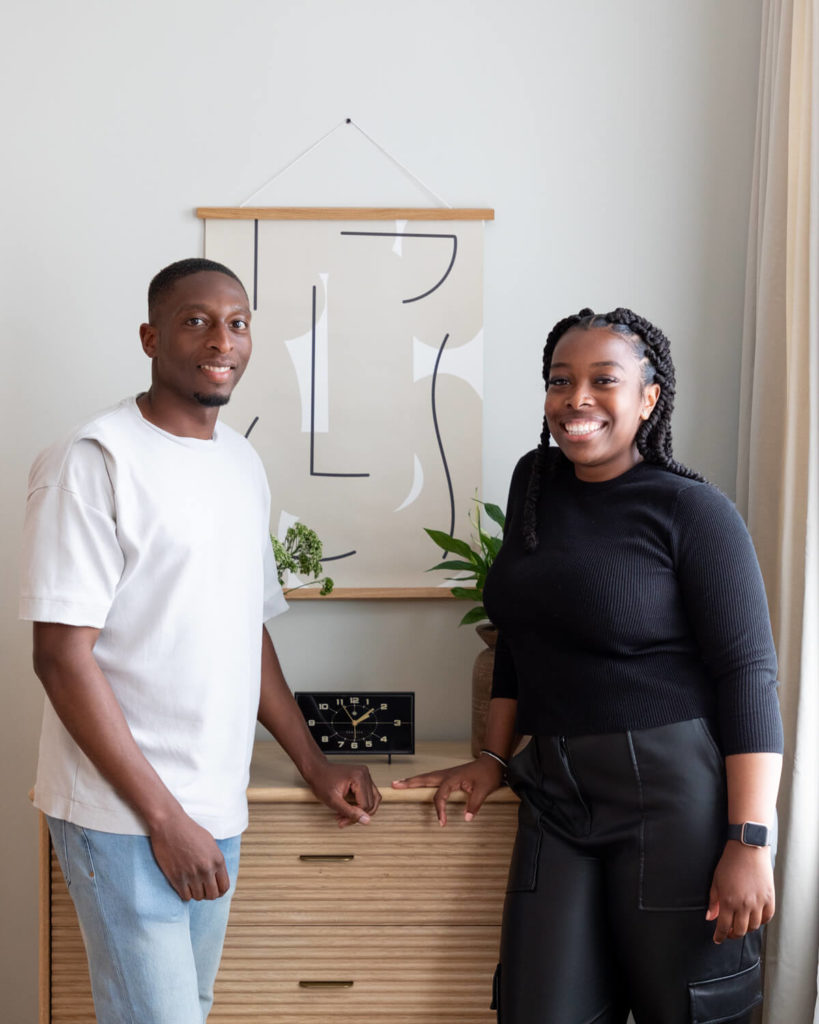 Okay, we know no one likes playing favourites, but if you were to choose what are yours and Lanre's favourite pieces?
C: If I HAD to choose, it would have to be the Heat pendant light or the Cartmel bed. It's a toss between the two. Lanre is 1 million percent the bed; he absolutely loves it.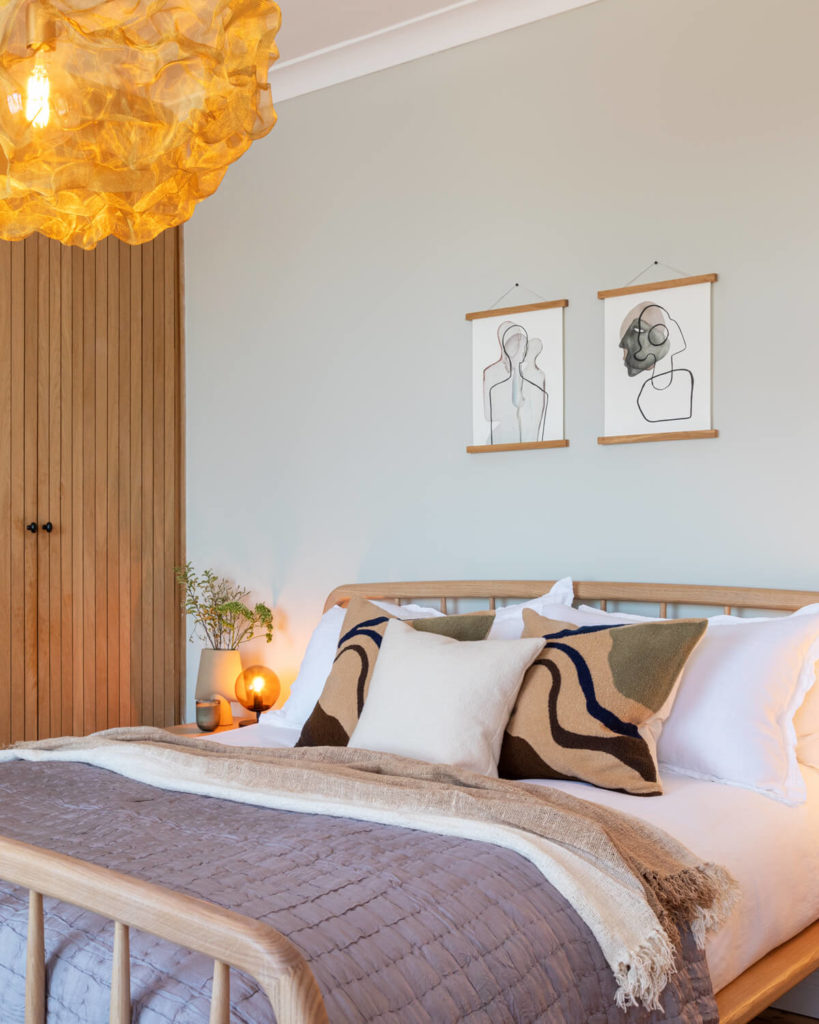 Finally, Nicola, what advice would you have for someone who is looking to get the look of Courtney and Lanre's bedroom?
N: Keep to light finishes such as oak or veneer, don't overthink or complicate the space and keep the textures heavy with layers and organic shapes and colours adding lots of greenery. This will give a sense of calm throughout. Add some brush brass to give a luxurious feel but keep it limited alongside strong accents of black in key areas, such as door handles and furniture feet/legs for example.
Need a helping hand with designing your space? Our IPS team is here to help!
Click here to follow along with Courtney and Lanre's renovation journey.