Corner sofas are increasingly popular thanks to their size and the cosy corners they offer. However, with so many options available, how is anyone to choose? Well, to help you out, we've compiled a list of our favourite corner sofa living room ideas.
Premium corner sofa living room ideas
This corner sofa is part of our Eton collection. With beautifully plump cushions, chrome legs and a modern silhouette, we reckon it's perfect for contemporary homes. If you're lucky enough to have a large living space, position the sofa away from the walls in the centre of the room. Plus, for a truly modern look, try positioning a statement floor lamp over the corner sofa. Not only will this provide a valuable source of light, but it'll make the sofa the centrepiece of the room.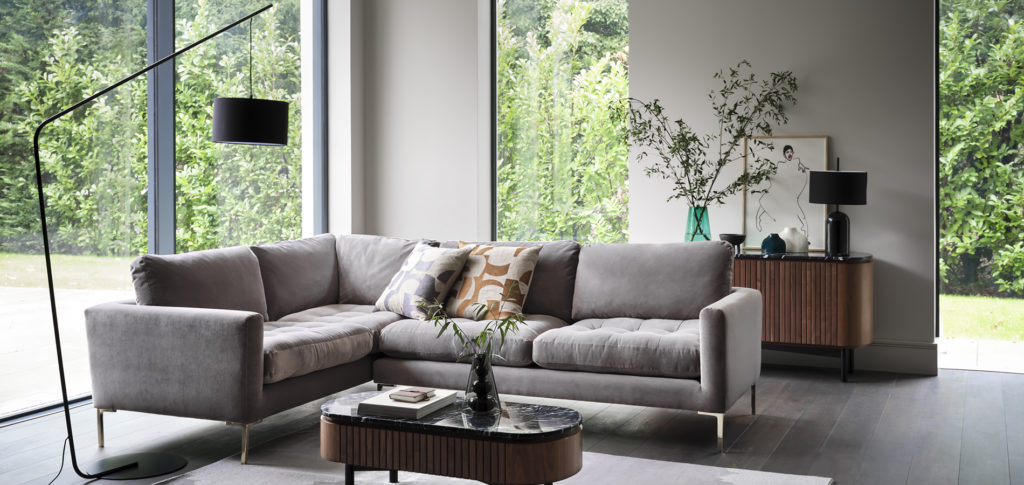 Curved corner sofas
If you're looking for something a little different in your living room, opt for an out-there corner sofa. Think gentle curves, modular seating and colourful upholstery. In a space like the converted barn in this shot, the Luna Sofa adds and extra flourish of modernity. Alongside the glass windows, ethereal lamp shades, coffee table and wood burner, the refurbished space looks incredibly contemporary.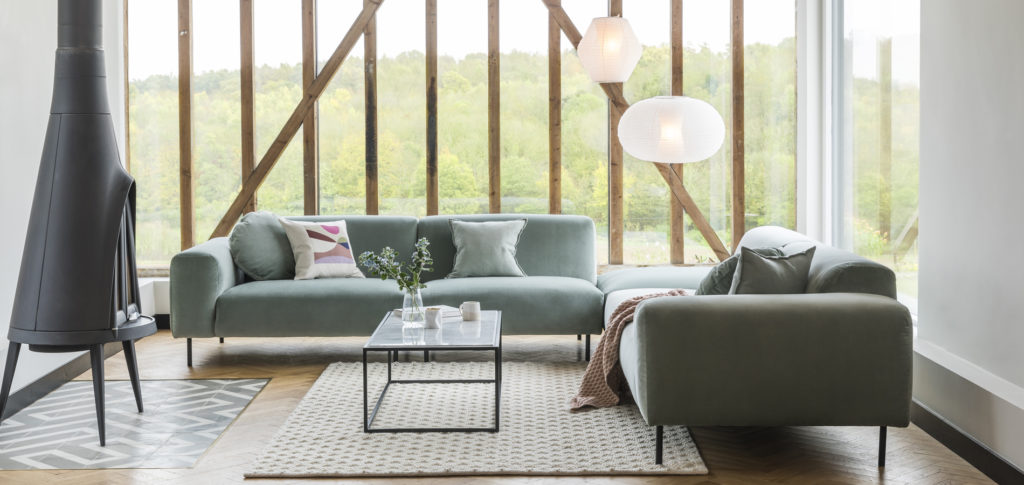 Stand-out corner sofa
Like the saying says, go big or go home. This Matera Corner Sofa with vibrant rust-red upholstery sure went big. It has space for all the family and a timeless silhouette that won't go out of style any time soon. Whilst it looks great in this modern home, it will look equally impressive in more traditional spaces as an added touch of modernity.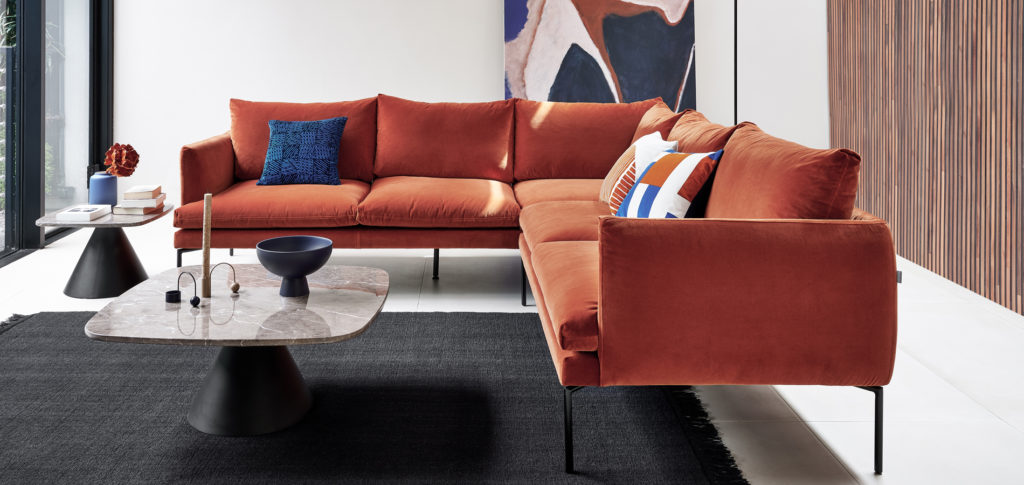 Designer corner sofa living room ideas
If you're searching for bold corner sofa living room ideas, look no further than the Togo Corner Sofa. This design icon is popular in homes across the world and has been for over forty years. The best thing? It's modular. So, you can switch up the sizes, colour and configuration depending on your room. If yellow isn't quite your colour, no fear, there are plenty of other options available. If you're after something slightly more subtle, perhaps opt for some textural grey or cream upholstery.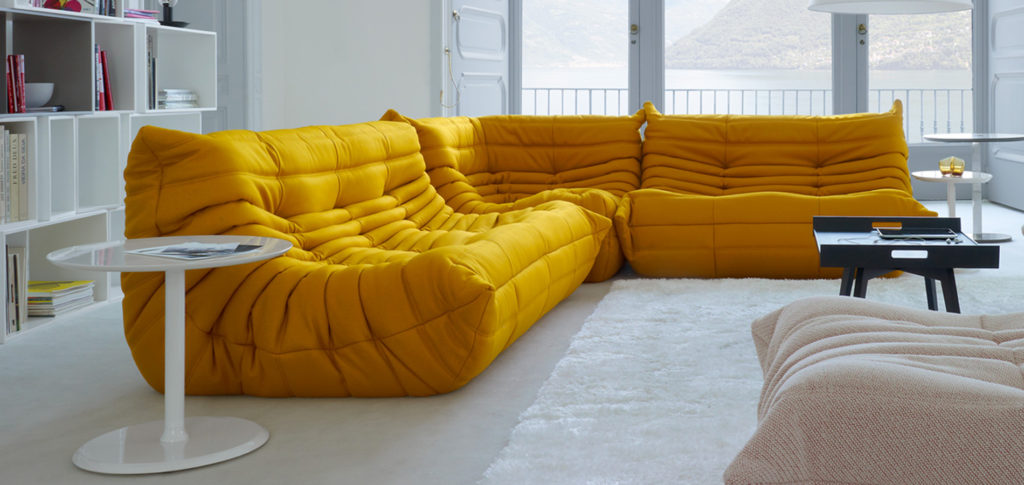 Modern chaise sofa
If you're somewhat short on space but still want the comfort of a corner sofa, perhaps consider a chaise sofa. Instead of curving around the corner, a chaise sofa features an integrated ottoman so you can still put your feet up. Often, they're left or right facing, but the Brunel Sofa in this shot is adjustable. The footrest can be moved from left to right according to your space.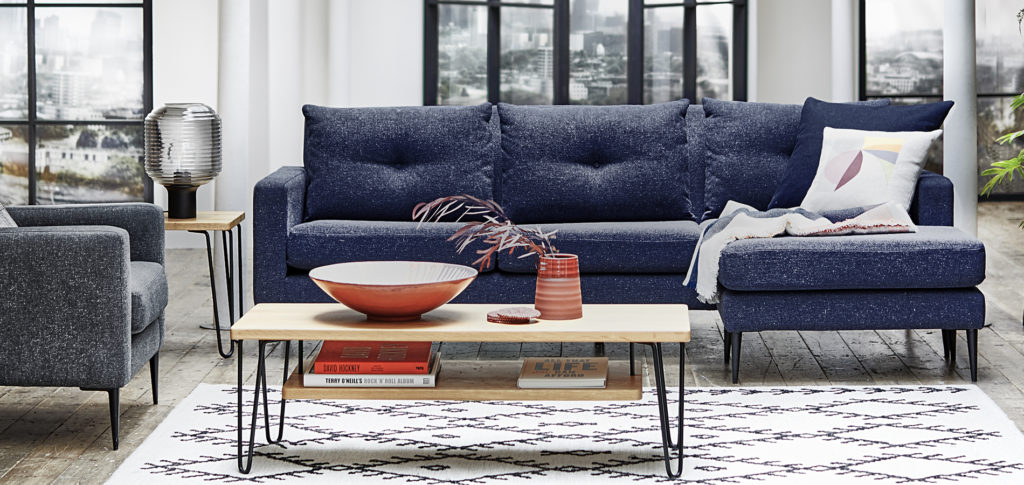 Velvet corner sofa living room ideas
If you're looking for something that strikes the right balance between a chaise and a corner sofa, consider our Cumulus Sofa. This spacious sofa has space for all the family without being too overbearing. Blue velvet upholstery adds an extra touch of luxury to the design. However, other upholstery options are available if velvet doesn't suit your tastes or needs. Not keen on this design? There are plenty others available so have a shop around.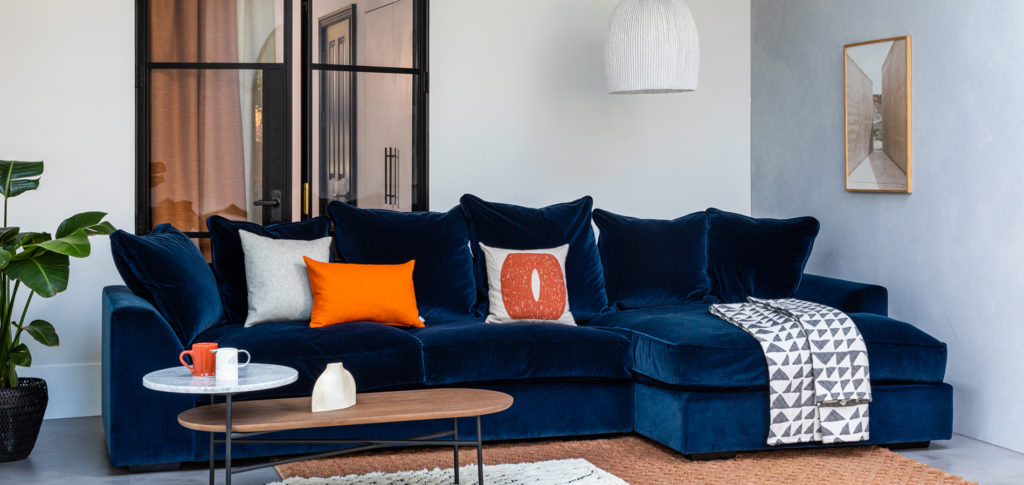 Traditional corner sofa living room ideas
If your space and tastes are slightly more traditional, that doesn't mean a corner sofa is out of reach. This Tailor Sofa looks right at home in more classic homes without being too dated. Its sumptuous cushions and elegant silhouette mean it looks and feels incredibly comfortable. Plus, it's spacious enough to offer room for all the family.