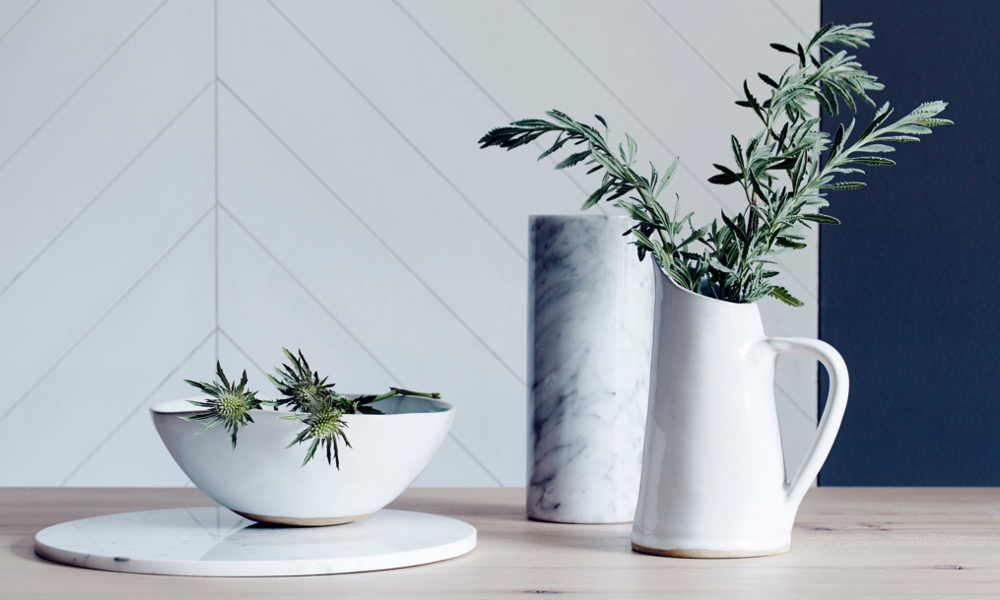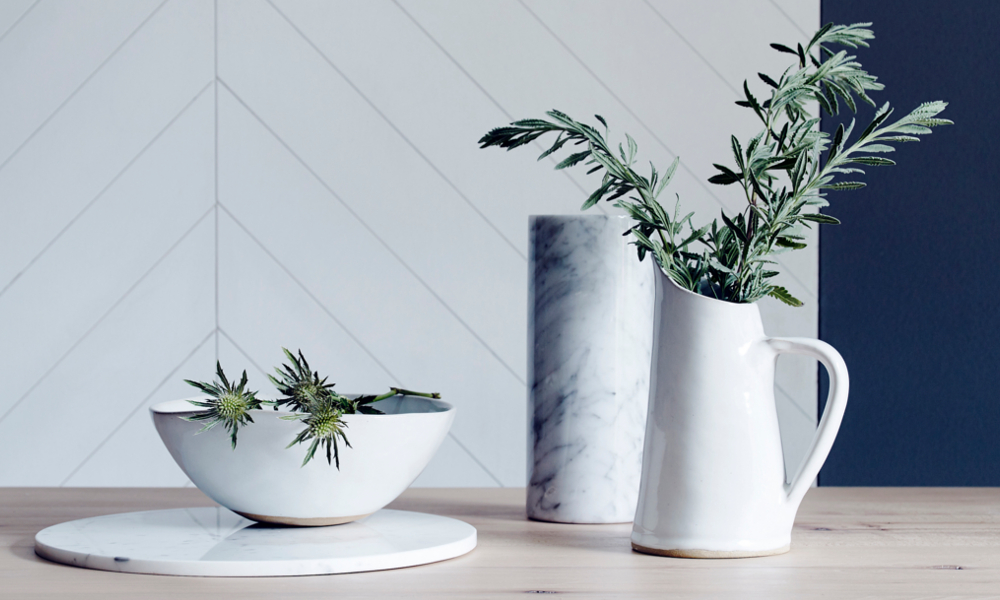 Whether its a modern update for a rural retreat or adding some rustic charm to an inner-city space, let our Country Kitchen-Diners inspire your next Modern Dining Room.
With all the technology and modern conveniences that fill our everyday lives, there's something about the back-to-basics feel of a traditional English dining room that remains so alluring. Yet these designs are much more than simply nostalgia pieces, with the shaker influence of functional elegance a staple of the best country inspired spaces.
Try these four very different takes on the Country Kitchen-Diner and lose yourself in the rural idyll.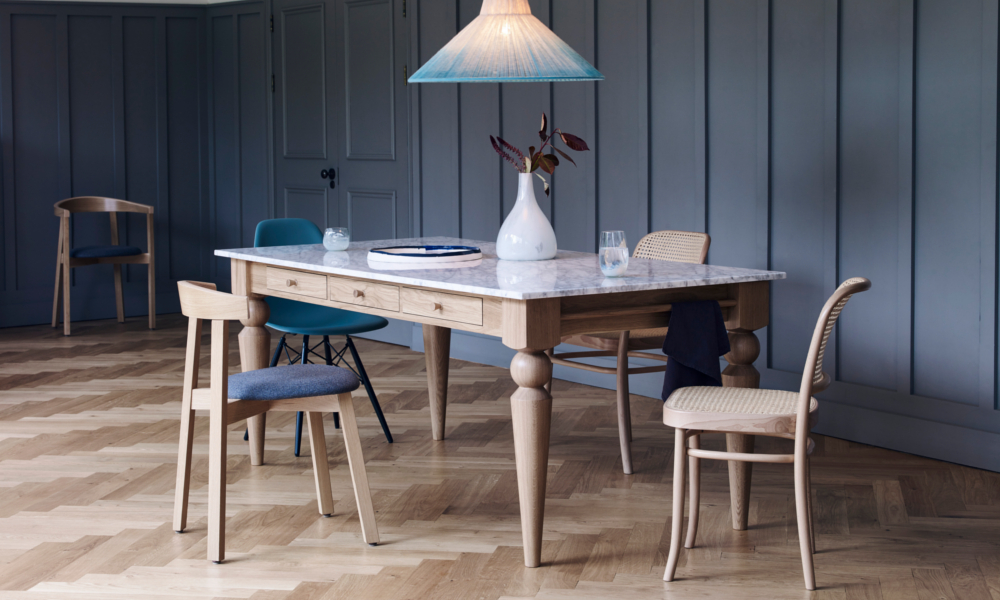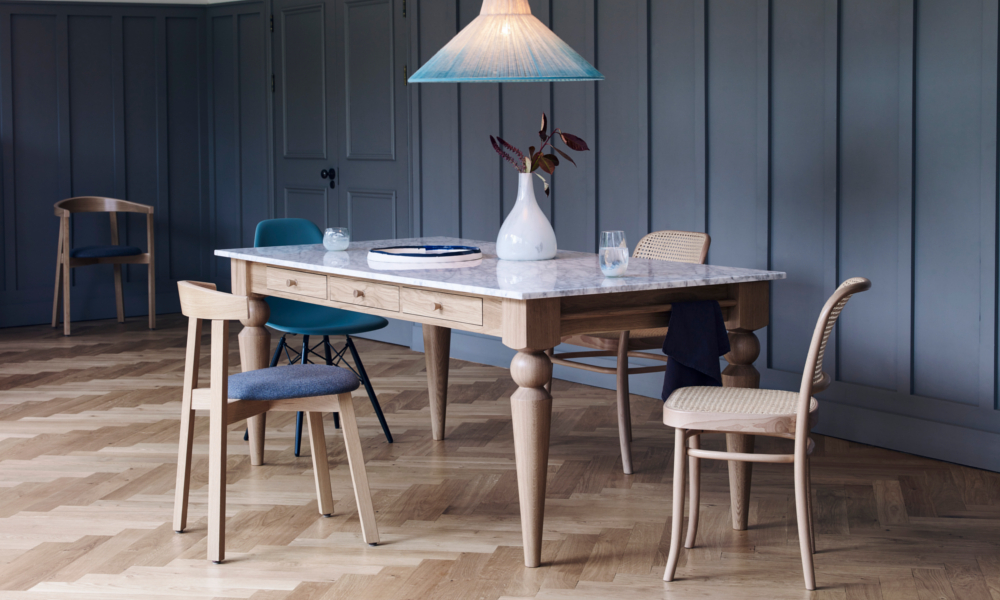 Cooks Oak Table from £1795 shown with Capra Dining Chair £255, Risi Chair £175 and Armchair £195, Eames DSW Chair from £285 and Fan Pendant £300.
Functionality is at the heart of the country kitchen-diner as evidenced by the Cooks Dining Table, its large work surface (pictured here in marble but also available in oak or urban concrete top) acting as both a place to prep and eat meals. This makes it a great piece for both big or small spaces acting as a makeshift island complete with storage drawers and hanging rail. We've paired this classic silhouette with a range of mix-and match chairs from the traditionally bentwood and woven wicker Capra to the sharp timber frame of the Risi.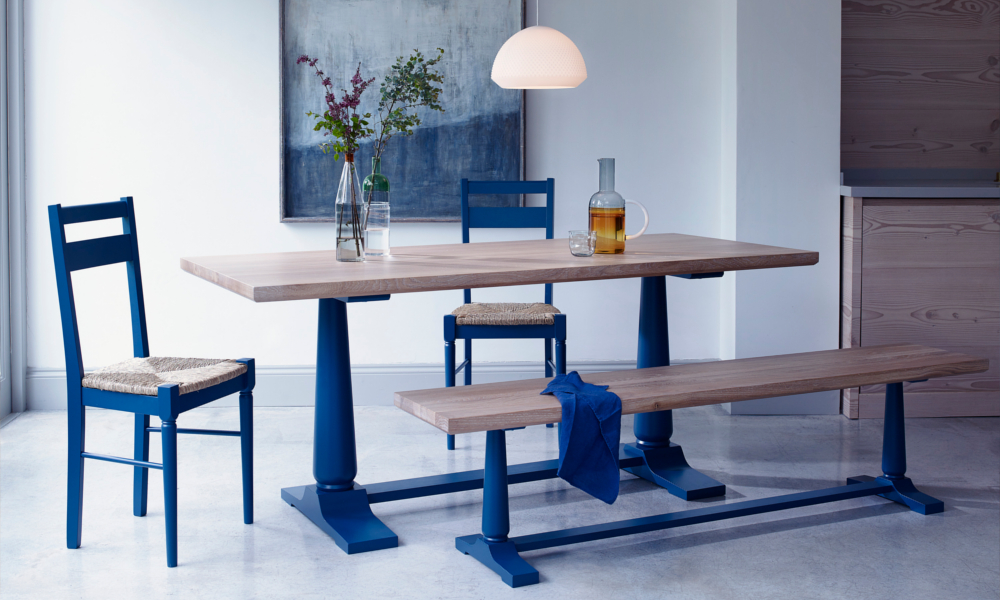 Pinner Rectangular Dining Table  £1195, Pair of Dining Chairs £395 and Bench £495 shown with Tequila Jug £70 and Bottle £70.
A touch of colour adds a contemporary twist to traditional British furniture with the mix of painted pieces and natural solid woods providing a bold accent to a country kitchen-diner. Striking the balance between traditional and cutting edge, the modern Atlantic Blue finish of the Pinner range helps the traditional silhouettes stand out especially when placed within a minimal decor.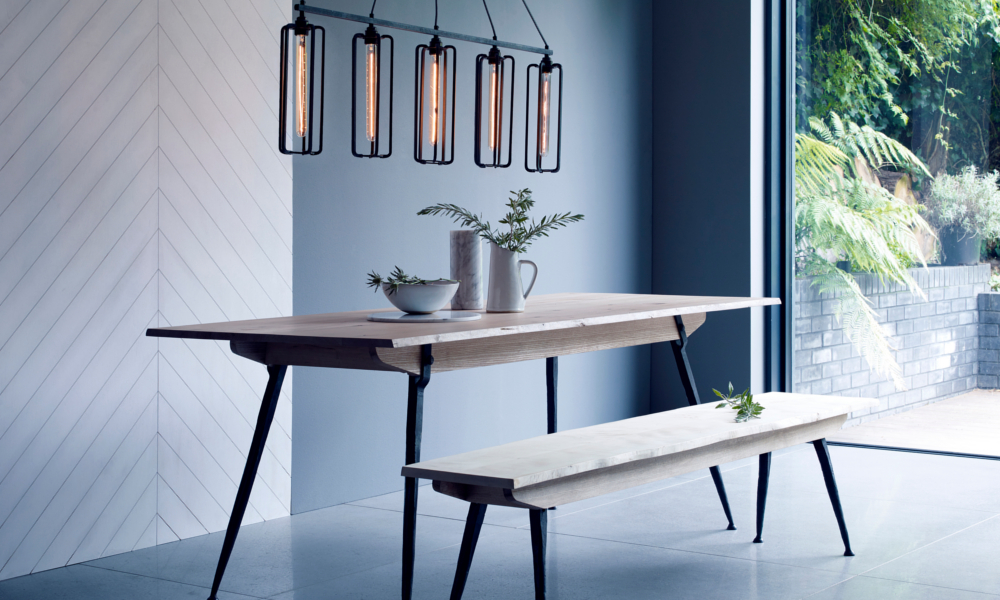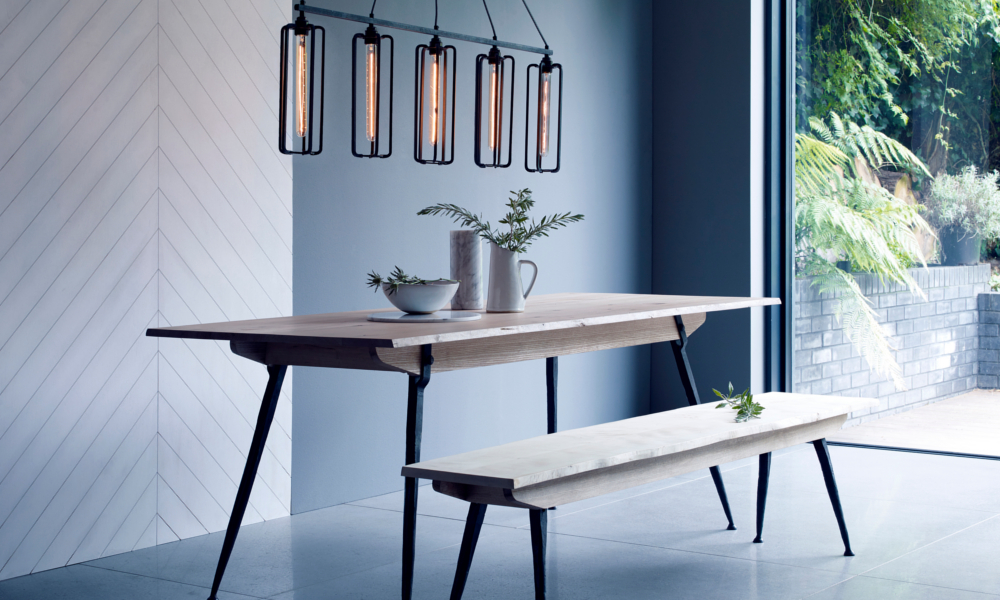 Tree to Table Dining Table from £2450 shown with Farrier's Cage Long Pendant from £1200, Mervyn Gers Monochromatic Dinnerware from £10, White Marble Cylindrical Vase £85 and Cheese Board £75.
Think country kitchen-diner and you will undoubtedly call to mind beautiful solid wood worktops and furnishings. Yet placed within a city space, rustic unfinished timbers can provide a modern contrast to the more polished surroundings. The Tree to Table Dining Table provides a real feature design for the dining room, with each cut from a choice of British grown trees (Ash, Limed Beech or Oak) and paired with traditionally forged and hammered iron legs. The range is crafted in Suffolk by Made by the Forge who are also behind the stunning Farrier's Cage Long pendant shown above.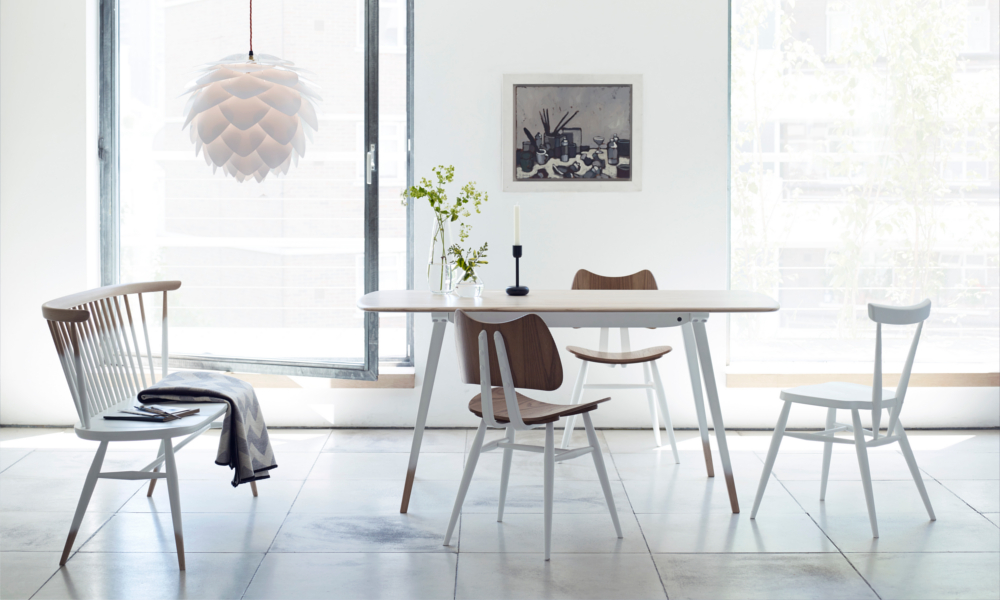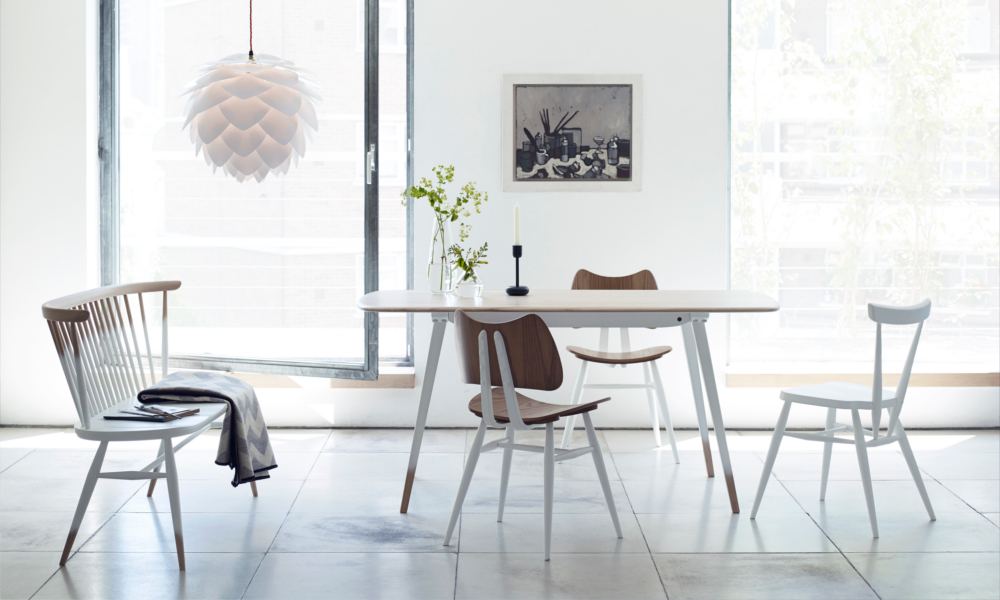 Ercol Originals Plank Table £999, Loveseat £738, Butterfly Chair £468, Stacking Chair £328 shown with Silvia Pendant Shade from £40.
First designed by company founder Lucian Ercolani in the 1950s, the Ercol Original's range brings together the brands most iconic pieces. Their mid-century take on traditional Windsor furniture means they still look fresh within a modern country kitchen-diner especially in the elegant white and fade finish shown above.