We eat with our eyes as well as our stomachs. So, make this Christmas bigger and better than ever with a beautifully decorated festive table. Whether you're hosting an intimate dinner party or a feast for the whole family, there are plenty of ways to personalise your Christmas dining table. We've compiled some of our best Christmas table designs to help inspire you, from statement centrepieces to thoughtful place settings. So, read on to discover how to style your table for Christmas the Heal's way.
Scandinavian Christmas Table
Minimalist, neutral and classic, a Scandinavian Christmas table design will bring a new level of warmth to your home.
For the tablecloth, opt for a natural material like linen or cotton in neutral cream, ecru or beige colours. Illuminate the table with candlesticks in similar hues and varying heights, or weave fairy lights throughout the table. The centrepiece should be relaxed and informal, made using natural materials. We've chosen to use fruit and candles, but you could use sprigs of pine or eucalyptus too.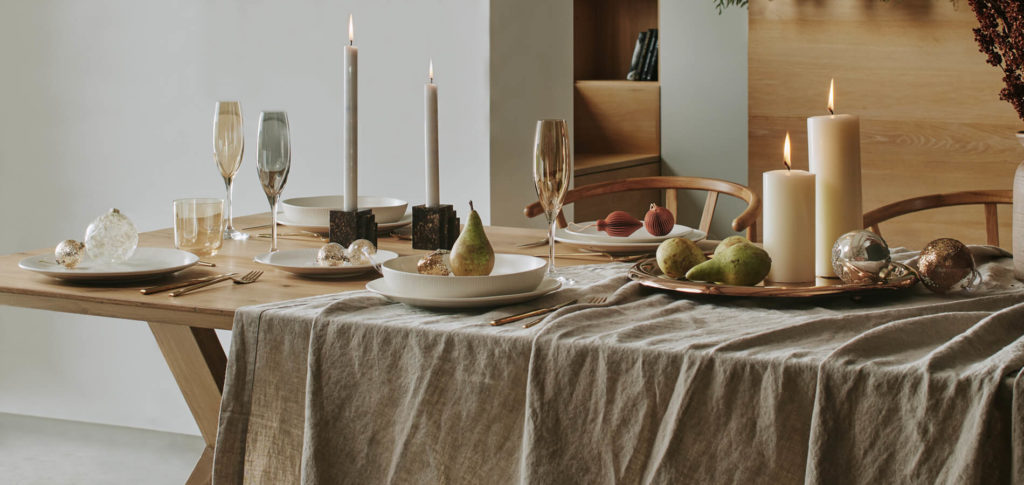 You can bring depth to the table design by introducing metallic splashes throughout. We've brought in elements of gold through the baubles and cutlery, but you could achieve the same look using napkins, candlestick holders or platters.
Don't worry, you can still achieve this look if your existing crockery is a different shade to white or cream. You could pick accessories in the same colour as your plates but in a different shade. For example, navy blue plates with a grey-blue tablecloth. Or, you could simply let your plates that stand out from the natural design, it will still look great. If you do choose to invest in new dinnerware, then natural colours and organic shapes will bring you a Scandinavian aesthetic all year long.
Opulent Christmas Table Setting
For a more intimate, cosy Christmas table design, how about taking inspiration from this opulent set up? With plenty of texture, different materials and glistening glass, this Christmas table is perfect for hosting.
To achieve this Christmas look, accessories are key. Think statement tall candlesticks, plum-hued napkins and timeless Georg Jensen silverware. Using seasonal thistles as foliage lends a unique touch to this tablescape. Plus, the flowers tie in perfectly with the splashes of purple throughout the design. The addition of dainty fairy lights will bring an added sparkle to the table. Plus, they reflect beautifully off glass and silver, making sure the whole table glitters.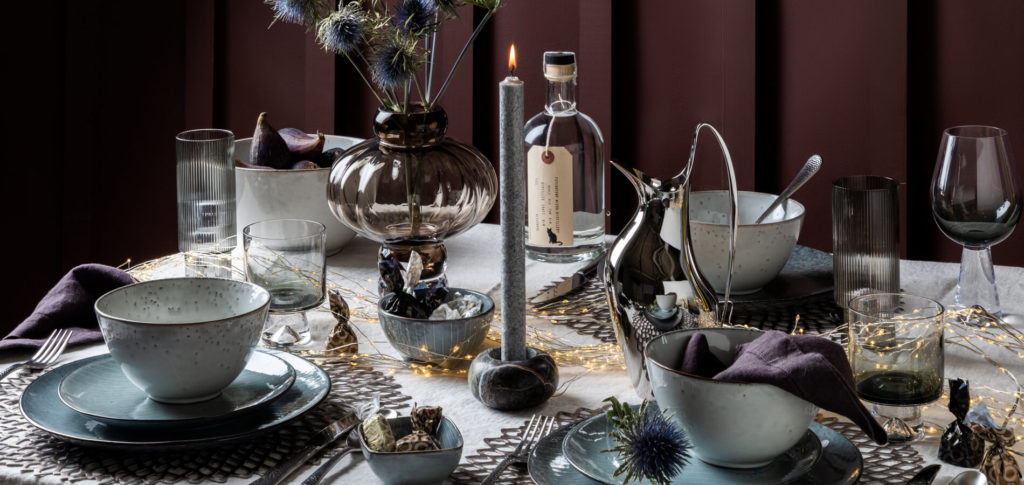 You could even arrange individually wrapped chocolate throughout the table for guests to nibble on, just like we've done here. There are plenty of coloured wrappers around so you can find chocolates that look and taste great.
The best thing about this design is that it's versatile and you don't need to buy everything new. Is purple not really your colour? Then not to worry, switch it out for navy, red or green hues. Already got a house full of gold accessories? Then swap the silver for gold. Everything down to the cutlery can be chosen based on your tastes and used time and time again, not just at Christmas.
Welcome the outside in
This timeless table scheme is perfect for all winter long, not just Christmas Day. It's warm and inviting but is versatile enough that each decoration can be used time and time again.
It's relatively easy to recreate this look at home. You don't need to invest in any new table linen, this relaxed aesthetic encourages you to serve directly on your table. Of course, you can use placemats or a tablecloth if you prefer to protect the wood. You may already have some minimalist white dinnerware in your cupboards and they're perfect for this Christmas table setting. Then you can inject colour with serving plates or bowls as well as candles.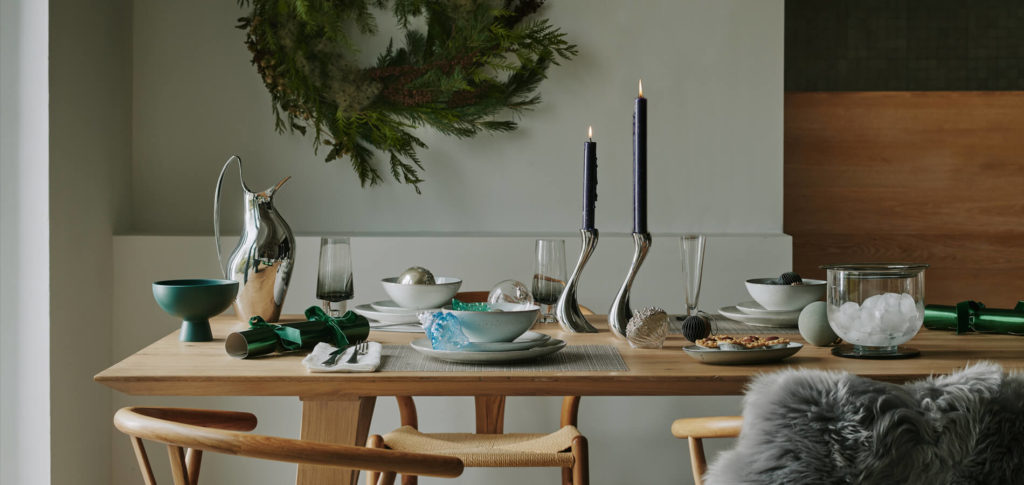 In this design, the sculptural Georg Jensen candlesticks create an elegant centrepiece in the middle of the table. Plus, they tie in beautifully with the coordinating pitcher. Draping sheepskin throws or cushions on your chairs will make the space feel even more inviting. Plus, it's that little more festive.
For many people, crackers can make or break a Christmas table scheme. They aren't always as chic as your design, and it can be tricky to find the perfect colour. The great thing about this table scheme is that you could choose any colour cracker and it will still look great. We went for dark green here, but you could pick red, blue or even eco-friendly kraft. Prioritising plastic-free crackers made using recyclable materials is a great choice for the planet and your natural Christmas table set up.
Make it Metallic Christmas Table
Go big or go home, right? We think so. This Christmas table inspiration shines brighter than the Star of Bethlehem. Bringing in accents of gold wherever possible, you can really transform your home into a festive beacon.
We love the metallic gold fans suspended from the ceiling in this look. They really make a statement even from afar and are perfect for larger rooms. The gold then follows the table design through to the cutlery, candlestick holder and glassware.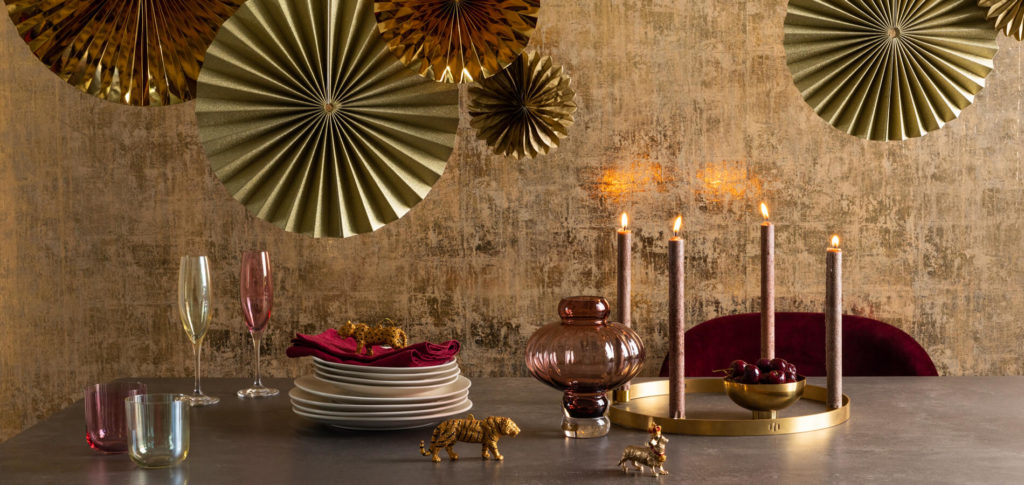 Bringing in splashes of red lends a more traditional note to this table design, as well as a touch of opulence. Plus, the natural tones of the candles make sure the table design doesn't become too garish. If gold and red aren't your colours, then this look could also be achieved using silver accessories. Or you could transform it completely using a kaleidoscope of metallic colours. The world's your oyster.
We also love gifting playful baubles and decorations as favours on our Christmas table settings. Simply place a charming bauble on each place setting for your guests to take home and decorate their own trees with. If you love your decorations too much to give away, then you can still use them to decorate your table.
For more table inspiration, check out our carefully curated Christmas collection.