'Tis almost time to deck the halls – whether you decorate the tree, dress the table or do everything – but how do you make sure your home shines with originality and reflects your style? Luckily, we've rounded-up the boldest and brightest ideas for how to decorate at Christmas to help you on your merry way, whatever your taste and space. It's the most wonderful time of the year, after all.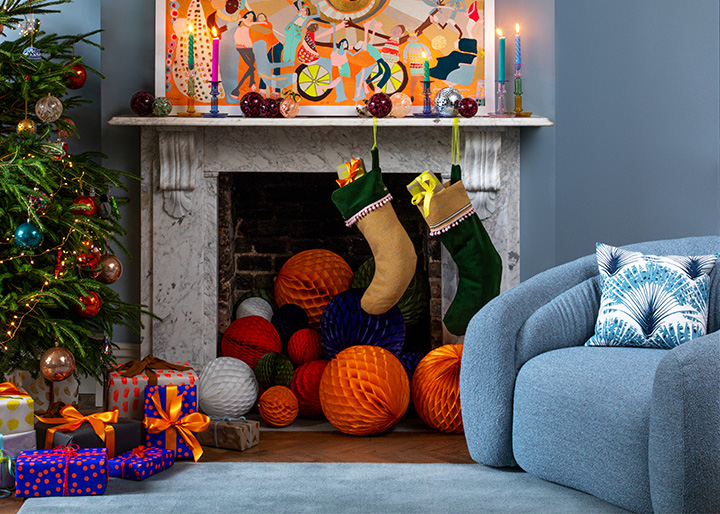 Christmas tree décor ideas
Luxury Christmas baubles are best when it comes to Christmas tree decoration ideas. Classier than tinsel and easier than lights, they usually come with a convenient metal hook or string loop that you can slide on to branches, while they add instant colour and texture to green foliage. Top tip: for less delicate baubles, we recommend nestling them among branches rather than hanging, which adds more bulk and depth. Simply rest larger baubles furthest inside the tree and smaller ones towards the end of branches for a professional 'layered' look.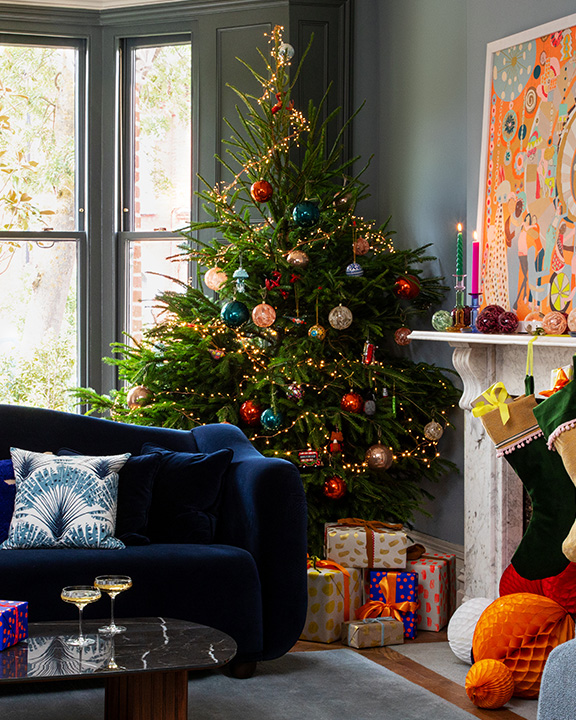 Opt for the 'vintage' look
Retro never goes out of style, so stock up on a collection of vintage-inspired decorations to recreate all the splendour of Christmases past, such as these colourful Glass Spot Baubles by Thie, this quirky Glass Santa Riding a Dinosaur Shaped Decoration by Sass & Belle or this classic Wool Mix Brown Christmas Pudding Decoration. Look for baubles with a handcrafted feel in delicate glass or soft wool materials for elegant Christmas décor.
Let your personality shine
From hobbies to favourite animals or places and interests, baubles allow you to express your personality, while incorporating the colours, motifs and textures you hold dear. This Metallic Resin Dinosaur Decoration Brontosaurus by Gisela Graham is a case in point – sure to be a talking point on the tree – while this Glass Glitter Lobster Shaped Decoration from Sass & Belle is a tongue-in-cheek take on the tangerine crustacean. London-lover? This Glass London Bus with Garland Decoration will let everyone know. Christmas tree decoration ideas don't get more fun.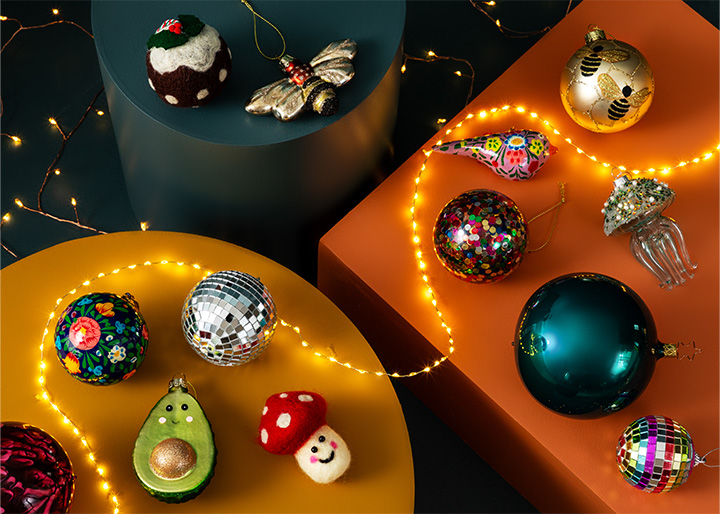 Try Scandi minimalism
Quiet luxury is having a moment right now with neutral colours, understated motifs and a less-is-more approach, so why not try Scandi minimalism for classy Christmas decorations? Consider these modern Deko Decorations by Broste Copenhagen, this simple Robin Clear Bubble Effect Decoration from The Original Winters Tale and these Glass Lines Ornaments by ferm LIVING. Alternatively, a couple of crisp white Honeycomb Ball Decorations tucked between branches or stacked at the base of the tree will add simple Nordic charm.
Go full glam with all that glitters
On the opposite end of the spectrum, maximalists may want to go all-out with glitz and glamour, such as this shimmering Silver Mirror Ball Bauble, pearlescent Glass Jellyfish Shaped Decoration or sequinned Clear Glass Ball Decoration. Focus on statement finishes, rich colours and unusual shapes for a tree that's as eclectic and as it is fabulous. The star of the show when it comes to Christmas tree decoration ideas.
Christmas table décor ideas
Once your tree is up – sparkling like a diamond in the centre of the living room– it's time to think about Christmas table decoration ideas. Tablescaping has become quite the art in recent years, whether a festive flourish here and there or a full-scale winter wonderland, adding a touch of drama and a sense of occasion to proceedings. Whatever event you're hosting, from a dinner party in the build-up to the main event itself or a festive soirée during 'Twixmas, our christmas tableware will make yours the talk of the town.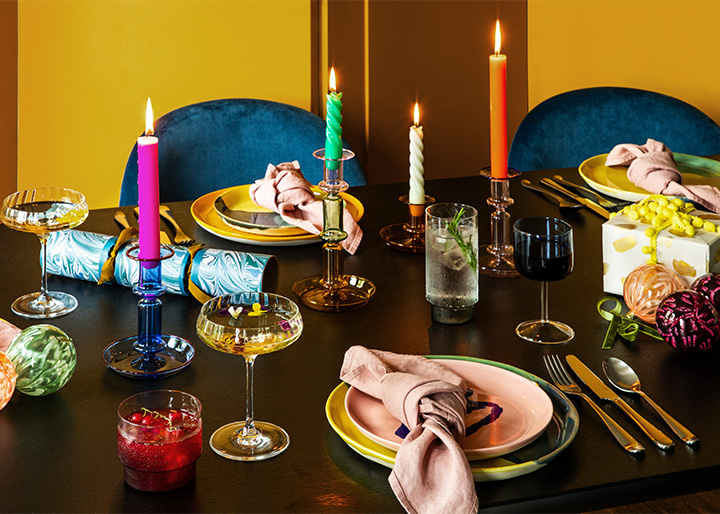 Plump for candlelight
Candlelight makes all the difference when it comes to setting the scene for a festive get-together. Cluster a group of pillar candles of differing heights in a tray on a circular table or line them up down the length of a regular table for dramatic effect. Nothing says 'Christmas' quite like the flicker of a flame between friends. A festive scent such as our Frankincense & Pine Short Pillar Candle or Winter Spice Tall Pillar Candle can be used to fill the room with seasonal fragrance before or after dinner to avoid fighting with the aromas of food.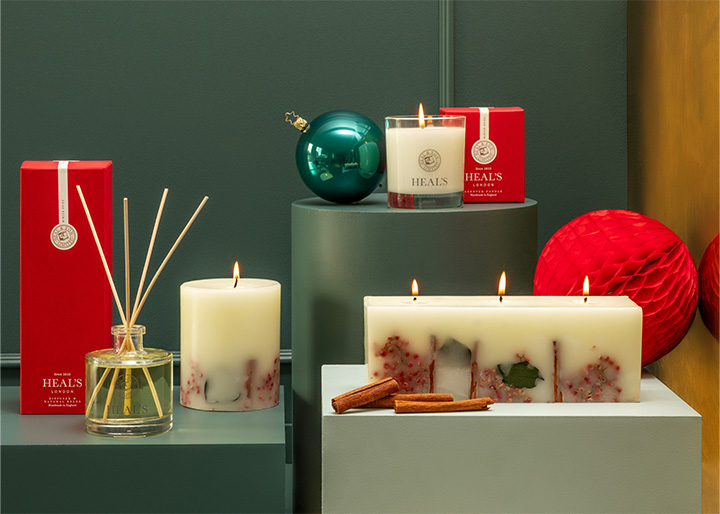 Incorporate natural elements
If you've got an outside space, a quick forage will unearth all kinds of festive spoils, from pinecones to branches and winter flowers. Otherwise, you'll be hard-pressed to tell the difference in our range of realistic faux foliage, such as this Pine Branch and Mimosa Grass by designer superstar Abigail Ahern. Display in a vase as a gorgeous centrepiece or lay down the length of the table as a makeshift garland. Top tip: a spritz of a seasonal fragrance will make them smell as authentic as they look.
Discover the art of layering
Have you noticed the one thing that professional tablescapes all have in common? Lots of layering. Start with a tablecloth as a blank canvas for your creativity – our classic linen style in a rich colour like midnight blue, pool green or wine red is a stellar choice – then simply add placemats (select the same colour as your tablecloth for a tonal look), statement plates – Nordic Sea, Ottolenghi Feast Face or Pearl White – and a series of glamorous glasses (for water, white and red wine, plus fizz) in an inward diagonal from the top-right of the place setting. Finish with gleaming cutlery on either side of the plate (laying from starters to desserts from the outside in).
Add a festive centrepiece
With the rest of the table set, there's only one thing left to do, and that's add a spectacular centrepiece as a sure-fire conversation-starter. The easiest way to do this is with an elegant vase, like Moon by up-and-coming ceramicist Talia Nidam Warshawsky, Thyra from Broste Copenhagen or Buée by renowned French brand Ligne Roset. Look to wintery colours, interesting shapes and warming textures to suit the season and avoid filling with foliage to let their designs do the talking.
Christmas light ideas
You don't have to wait until 'the big switch-on' in your city, town or village to have your own switch-on at home, as it's never too early. Whether wrapped around your tree, snaking between the bannisters on your staircase or enveloping your entrance, Christmas lights add twinkle, magic and warmth to Christmas decorations, whether indoors or outside. Here's our most illuminating Christmas light ideas.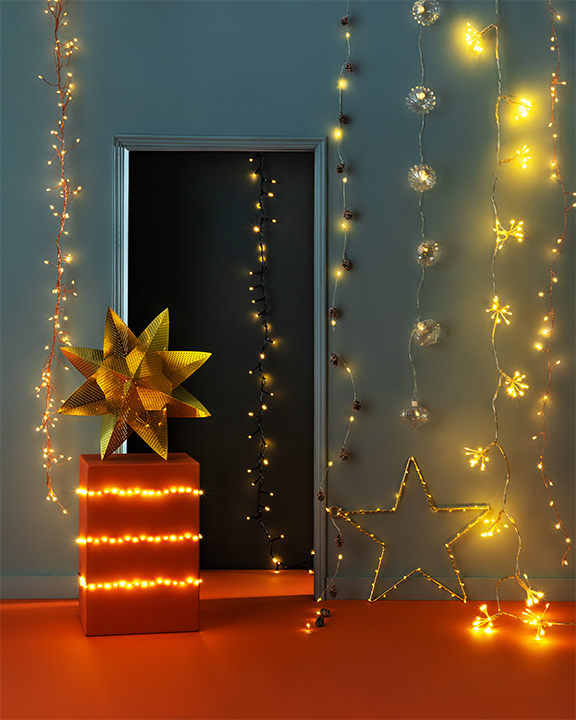 Make your Christmas tree sparkle
The golden rule is to add Christmas lights before decorations, but how do you know what kind you need? First, decide if you prefer a classic or contemporary style, from simple Warm White LED Lights for the former to ornate Millie LED Glass Garland Lights for the latter. Next, are you after a warm, yellow glow or a crisp, white light? Both give off very different effects. And, finally, do you want a set you can plug into a power socket or a cordless style that operates via a battery pack? Nova LED string lights by Sirius are perfect for lighting up a tree that's in the centre of a room like a grand hallway, for example.
Add twinkling lights to your staircase
You don't have to festoon a garland around the staircase to style it up for Christmas, as string lights will look just as stylish, while being significantly quicker and easier to decorate with. Molly Cone LED garland will lighten and brighten your landing while adding interest with its nature-inspired design; while the Knirke LED indoor string lights will fill any space with an ethereal glow.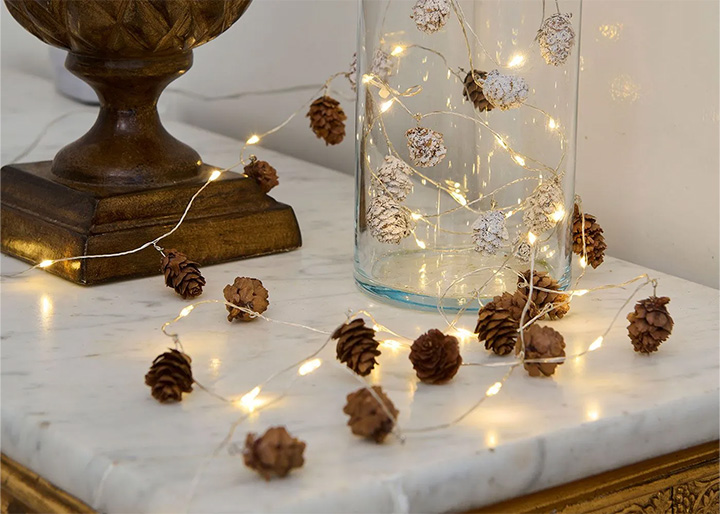 Light up your entrance
Welcome one and all with an entrance that ushers loved ones inside with the warm embrace of a long-lost friend. No less than 160 LED lights are attached to a subtle green wire that blends seamlessly with nature on this set by Sirius which can be easily manipulated into the shape of your doorway to pick out striking architectural features. Otherwise, why not invest in a battery-powered set you can weave around a wreath that you hang on your door?
Don't forget about window lights
Finally, why not get inspired by an advent calendar with an illuminated feature in every window of your home to get the neighbours talking? The Hanging Circle Light in silver will look spectacular against glass while a cluster of Sara Flameless Candles creates the cosy on internal windowsills.   
Get inspired by browsing and buying our collection of Christmas decorations.