Green is well and truly having a moment, perhaps in part because of its connection to nature – from emerald forests to sage fields and olive groves – as well as the fact it's utterly timeless and complements most other shades.
But did you know that the latest way to tap into the trend is through your bedding?
Yes, green bedding is the hottest trope in interiors right now, perfectly timed for swapping out your current sheets for the cosy season ahead.
Here, we track its rise (and rise) and help you shake up your set for autumn with truly inspiring green bedding ideas.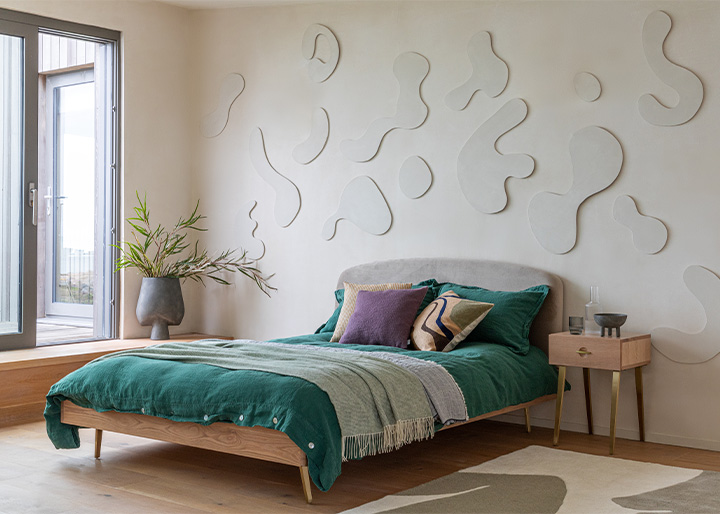 Why is green bedding so popular?
It didn't start with green bedding. As with most things, the trend began with a broader brushstroke as green – more generally – became the colour of 2023. Searches for 'green' are soaring online as we look to surround ourselves with natural colours found in the world around us, from forests to fairways, which explains why earthy browns, watery blues and sunny yellows are also big news.
These are comforting hues that console us in a world that continues to be tumultuous, even post-pandemic. Green brings the outside in with its restorative and refreshing qualities while grounding us in what really matters.
And it symbolises growth and abundance and has a positive and calming effect on our emotion and mood. Is it hardly surprising that it's filtered down from the plants we use to fill our interiors to the paint we put on our walls and the linen we dress our beds with?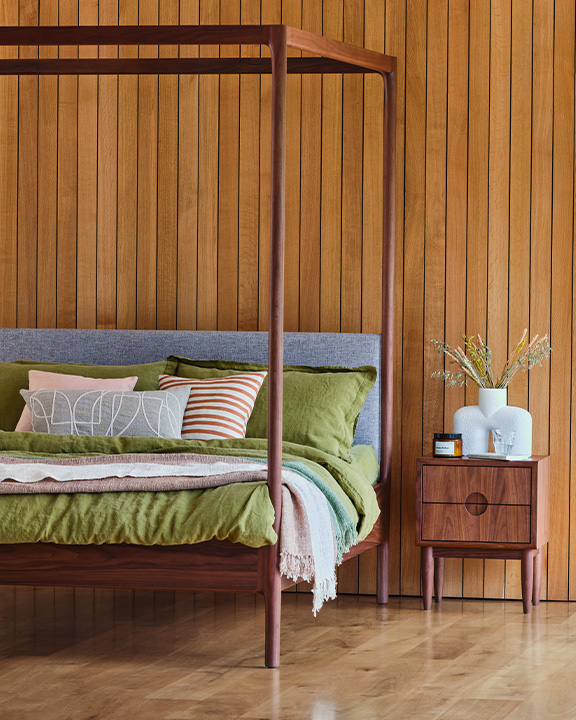 Is green bedding a good choice?
Luckily, green is an excellent choice for your bedding.
It's versatile.
Green bedding makes even the dark depths of winter feel positively spring-like but because it's so versatile. Indeed, green is a chameleon of colour that complements a spectrum of different shades, from neutrals like brown and grey, to vibrant hues such as yellow, blue and pink. Better still, green itself comes in a range of different tones, from light to dark, with cool or warm undertones. You can choose a shade that fits your bedroom's aesthetic and your personal taste. For a more calming and neutral feel, consider soft, muted greens, while bolder shades can add a pop of colour to your bedroom.
It's timeless.
It's also timeless with black and white, able to step up as the star of the show or play a stellar support act. As they're opposite each other on the colour wheel, red and green are happy bedfellows, too, despite the old adage that 'red and green should never be seen'.
It's complementary.
Lastly, green can be made to look modern for contemporary spaces, or traditional with cottage-style décor, making it a secret weapon for your bedding that can be styled up differently time and again to keep things fresh.
What is the best green bedding for me?
Luckily, Heal's is home to the best green bedding in the business, with something for every taste and space.
Casually chic green linen bedding
A bestseller for a reason, our washed linen in forest green is a casual but chic set that has a soft feel and a relaxed look, featuring distinctive mussel-shell buttons on the duvet for a stylish flourish. It's carefully woven in Portugal using flax in a sustainable process that requires fewer dyes and water than cotton.
Better still, the fabric is noticeably weightier than most other linens to make it as suitable for providing warmth in the winter as it keeps you cool in the summer. Don't worry about ironing, either: simply wash, dry and put it straight back on. A pre-washed look means it comes stylishly faded, too, meaning it couldn't be easier to keep looking like new.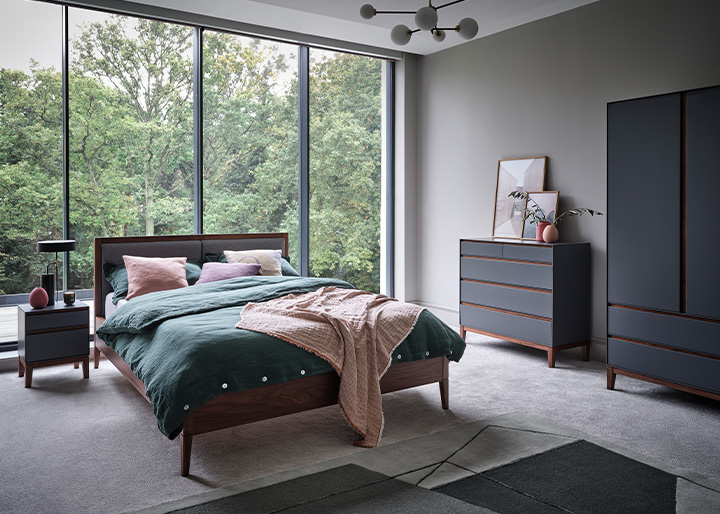 Smart and sophisticated green cotton bedding
On the other side of the spectrum, Été bedding in dark green and white contrasting stripes from Hay – founded in 2002 in Denmark – is seriously smart and sophisticated. It's crafted from crisp, soft cotton as part of a collaboration between the brand and designer Amanda Borberg. Breathable and lightweight, it's perfect for recreating that beach-chic look, whether as a matching set or mixed with other pieces.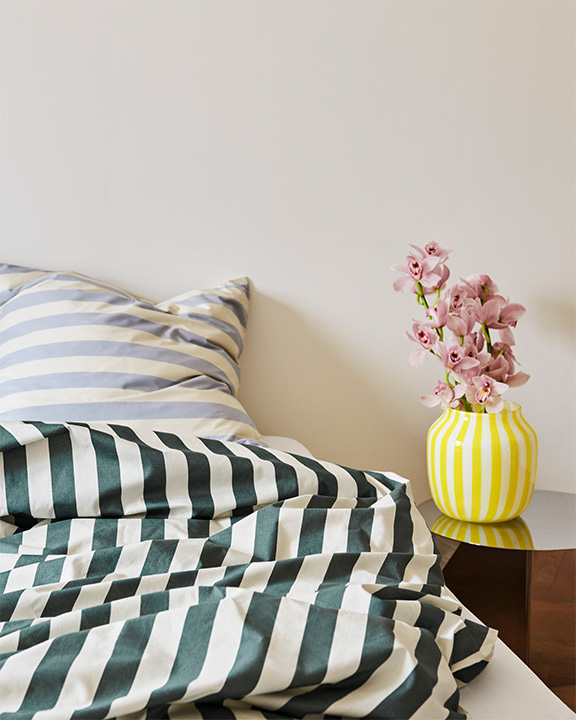 Luxurious green quilted bedding
For pure luxury, look no further than our velvet quilt in emerald green, a thick and cosy bedspread featuring plush quilting in a rich palette. It's made from 100% cotton velvet and hand-finished for a hotel-style look. Layer over your duvet at the end of the bed to style it like a pro.
Smooth and silky green bedding
Alternatively, plump for our silk bedspread in sage, featuring a grid pattern and handwoven in India.
From washed linen to Egyptian cotton, we offer a range of different bedding in quality materials – all with a different aesthetic and feel – so read our helpful buying guide to find the best for you.
What accessories go well with green bedding?
Bedding is just the beginning of creating a beautiful bed for rest and relaxation. Layering is key to creating a luxurious look, so invest in a scatter cushion or two, whether in something tonal like the Edith check cushion or Cabana stripe cushion, or a contrasting style such as the Pablo Picasso Femme au Chapeau cushion or the Heal's + LF Markey cushion.