Months of research and development go into creating each new collection. Trips abroad, visits to shows and social media all help to inform new season trends. Whilst the global pandemic stopped this year in its tracks, AW20 interior design trends have still emerged out of lockdown.
Key trends we envisage seeing this season include focussing on traditional craftsmanship, honest materials and a cosier edge to design. In a continuation of SS20's focus on sustainability, timeless design will take centre stage. Staple designs that are made to last a lifetime will begin to reign supreme over fast furniture.
Read on to discover the AW20 interior design trends that will sweep their way onto our Instagram feeds, Pinterest boards and homes soon enough.
LIVING LIGHTER
An overarching theme this season is a desire to live lighter. This new approach to conscious consumerism is seeing people buying less but buying well when they do make a purchase. This is something you'll notice is infused throughout each of the AW20 interior design trends, lending them more longevity than a simple, fleeting trend.
People are investing in design rather than opting for fast furniture that lasts only a few years. As such, we're noticing a rise in furniture with a timeless appeal that will last a lifetime. Think clean lines, comfortable, durable upholstery and muted colours. As such, quality matters more than ever. You'll notice an abundance of solid wood, sustainable materials and expert craftsmanship are taking centre stage this season.
MULTIPURPOSE HOMES
During the past year our homes have transformed into gyms, offices and schools with little regard to aesthetics and comfort. But to create a truly multipurpose home, it also needs to function as a home. We predict one of the top AW20 interior design trends is going to be multipurpose furniture. For example, desks that double as sideboards and dining chairs that are ergonomic enough to be used as desk chairs. Clever storage additions and stylish office accessories mean your home will looked lived in yet refined. This pared-back, warm minimalist look is perfect for living, working, entertaining and relaxing.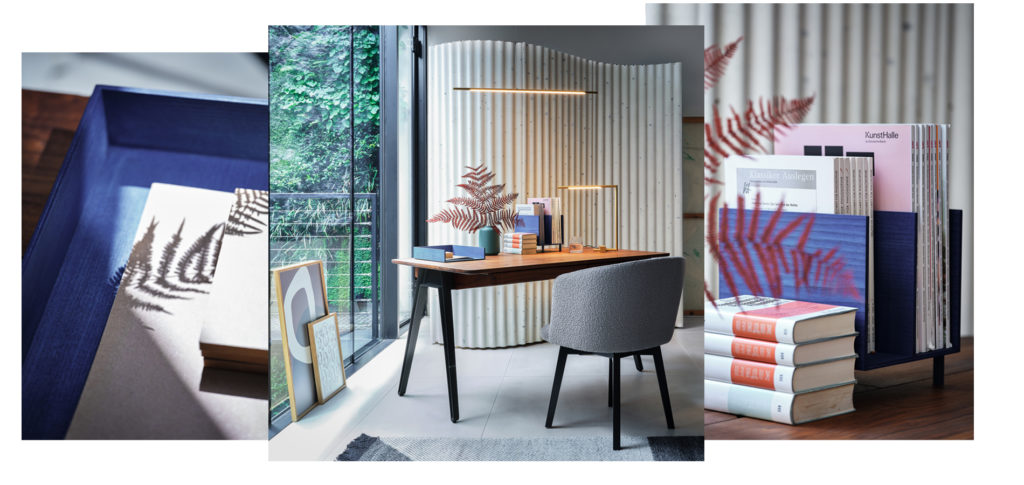 AW20 COLOUR SCHEMES
Colour is taking a central role as we strive to transform our homes into calming oases. On the two sides of the spectrum, we're either opting for muted, earthy tones or going bold and bright. These are incredibly versatile AW20 interior design trends in their own right and will stay relevant for years to come.
Rich Earth Tones
Part of creating a quiet haven is choosing colours and materials with lots of depth. Rich, evocative colours reminiscent of nature are really on trend. Think terracotta tiles, cotton linen and dark woods. This combination of off-white and earthy hues offers a warm twist on minimalism. So, your home will feel bright and open whilst keeping you grounded and in tune with nature. These styles have existed for centuries in one form or another, so you can be sure you'll love them for many seasons.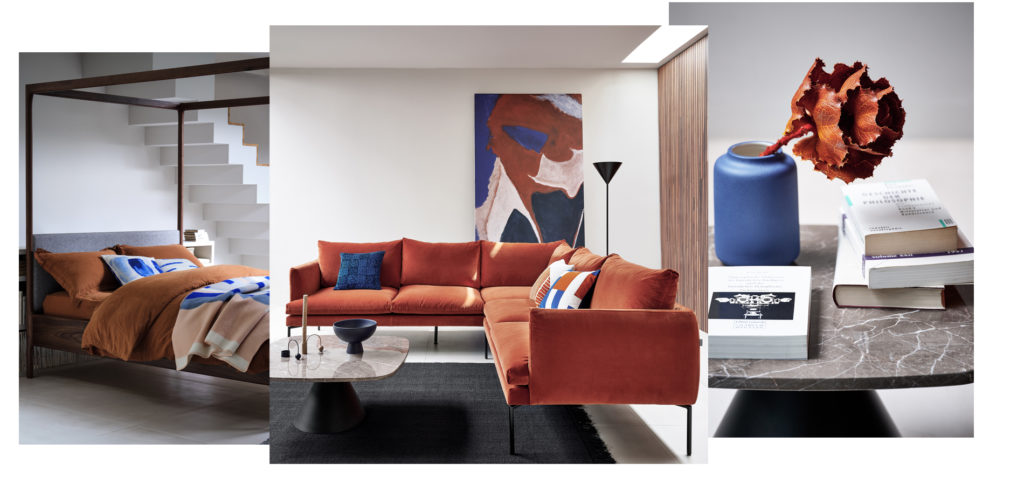 Colourful Accents
Splashes of vibrant colours like cobalt blue and deep orange are becoming increasingly popular. The beauty of this trend is that it's incredibly versatile, meaning it will last much longer than one season. No need to furnish your entire home with brand-new cobalt or orange furniture, simply add some key accessories. To ensure real longevity, invest in good materials and silhouettes that you know you'll still appreciate for years to come.
Bright & Beautiful
Something as disrupting as a global pandemic has made us crave the familiar. For that reason, you may be spotting some familiar colours and styles in the coming season. Bold tropical hues reminiscent of 1990 Miami, splashes of marble and classic silhouettes are all coming to the fore. More often than not, these designs offer an eclectic, modern twist on traditional design. Influenced by the colours that swarmed Instagram in recent months, these interiors are made to be shared.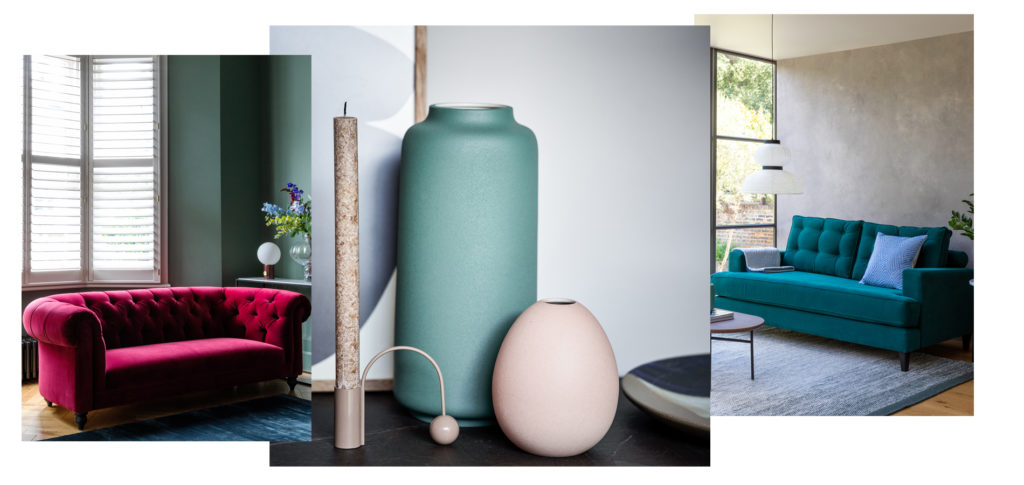 AW20 MATERIALS
One of the key AW20 interior design trends is a heightened selectivity over materials. This is largely part of a desire to invest in designs that last a lifetime and a commitment to sustainability.
Honest materials
With people looking to buy once and buy right, materials with durability are taking precedence. That isn't to say there isn't a large design element to this choice. Choosing an honest, sustainable material doesn't mean you have to compromise on style. This season we're seeing lots of darker woods emerge, as well as marble flourishes.
When it comes to fabrics, there's still an ongoing desire for honesty. Think un-dyed yarns that use far fewer chemicals and water than the current standard. Similarly, expect to see plenty of recycled fabrics on floors, upholstery and cushioning. Texture remains incredibly important when selecting fabrics. Bouclé and plush velvets continue to be incredibly popular and timeless choices.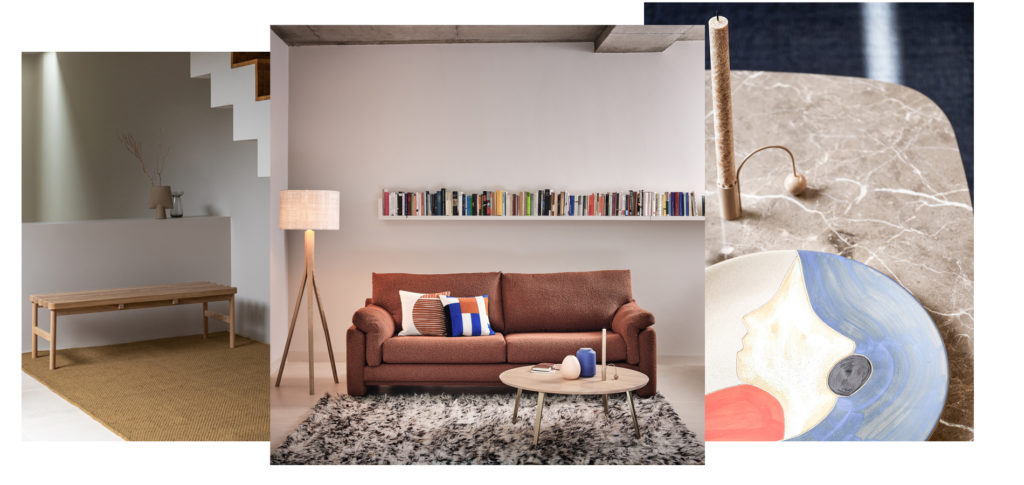 Sustainability
As with previous seasons, sustainability remains an important design element and will continue to do so going forward. Part of this is reflected in the popularity natural materials like wood and cotton. However, there's now a deeper element to it and green washing won't quite cut the mustard. Customers want to know if the wood is sustainably sourced and if the cotton is organic. Make no mistake, brands are listening, and sustainability is being addressed from every angle of the industry.
Recycled materials are remaining popular, with everything from bottles to off-cuts being transformed into new fabrics. Similarly, the new season also sees further growth in LED lighting. Low-energy, wireless lighting works conveniently round our lives and is ideal for the modern home.
TIMELESS DESIGN
Timeless furniture not only focuses on the material, but also the design. One of the top AW20 interior design trends is fusing old and new pieces together to create furniture heirlooms. These interior staples are made to last and boast a timeless appeal. We expect to see brands looking to their archives and heritage to create furniture that is both familiar yet new. With the addition of modern technology, expert craftsmanship and new, innovative materials, these reimagined classics are becoming increasingly popular.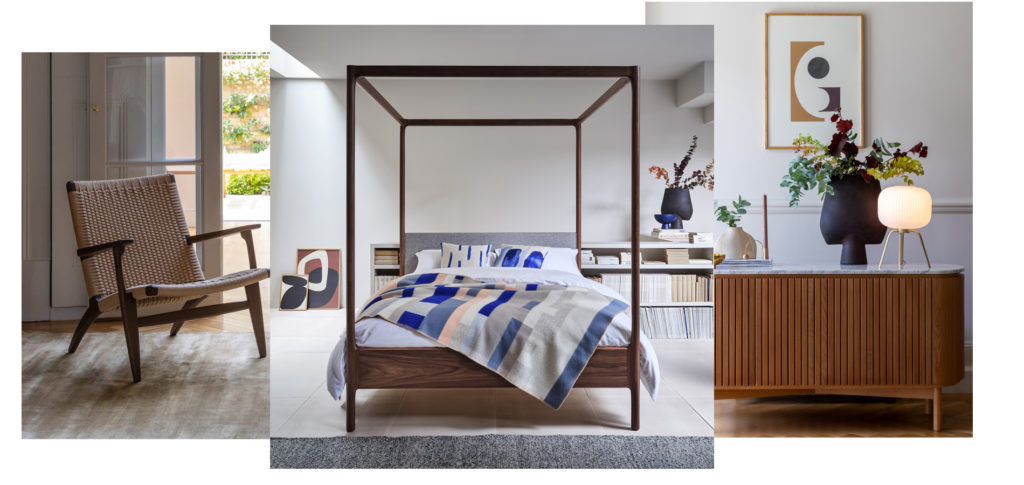 SMART HOMES & AI
Whilst we're spending more time at home, making sure it works around you has become a major priority. Enter smart technology. With devices like Google Home and Amazon's Alexa commonplace in our homes, smart design has taken a step further. The desire to customise your lighting or unlock your front door at the touch of a button has been realised.
Expect to see wireless charging, LED lighting and mobile-controlled technology in every corner of the home. Even thermostats now work seamlessly with mobile technology and are stylish enough for modern homes.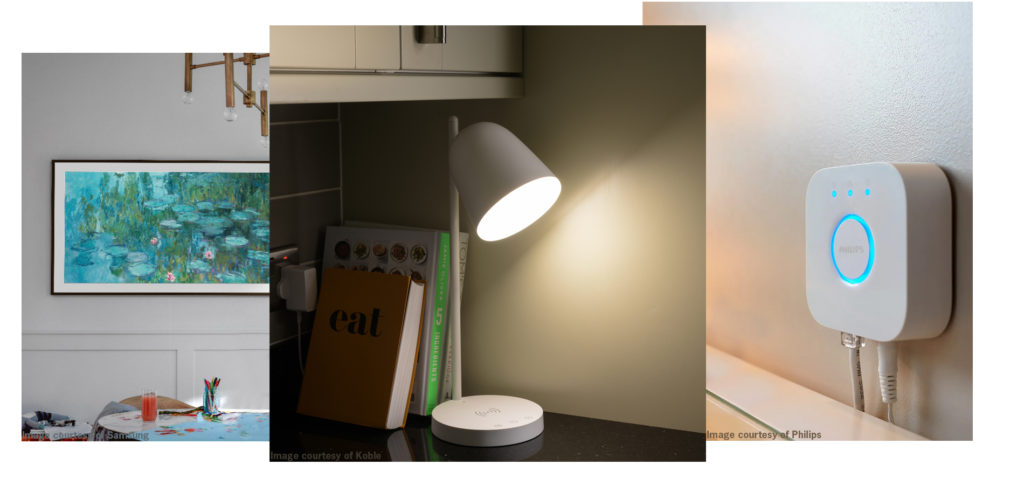 BIOPHILIA
After lockdown left many confined to flats and away from open, green spaces, our desire for nature has been heightened. As such, we're doing all we can to strengthen the human-nature connection. Whilst houseplants are nothing new to our interiors, we're now turning to wallpaper, materials and colour to get our nature fix. From naturally occurring patterns to textural jute weaves, expect to see much more natural design entering our homes.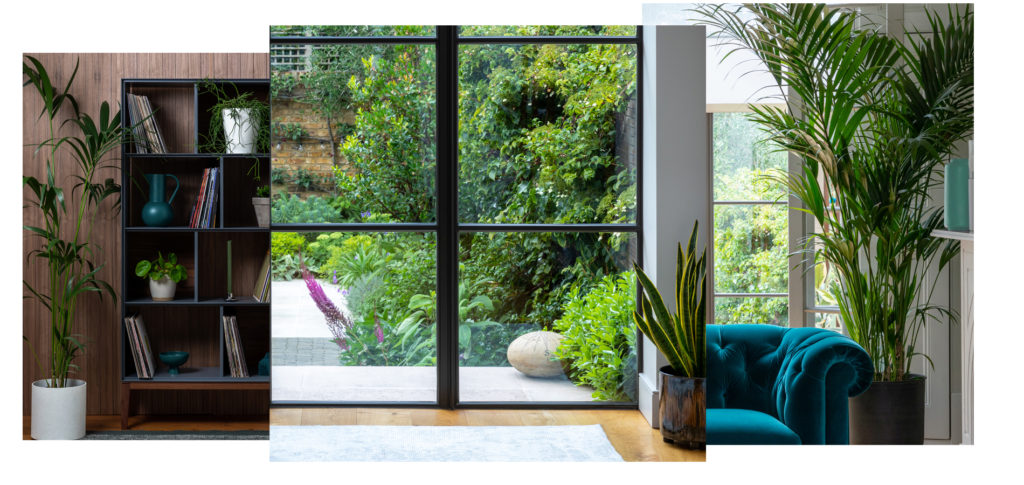 CHUBBY FURNITURE
Sometimes it isn't enough to simply design your interiors to look like a cocoon, sometimes you need to feel it. A new trend for voluptuous furniture is evolving. These modern designs will envelope you in a big, comforting visual hug. This trend reaches every room, from padded dining chairs or a plump headboard to a spacious sofa or armchair. When used in a living space, a beautiful, bountiful sofa provides the perfect spot to relax and unwind. Go one step further and opt for sumptuous bouclé or textured upholstery for ultimate comfort.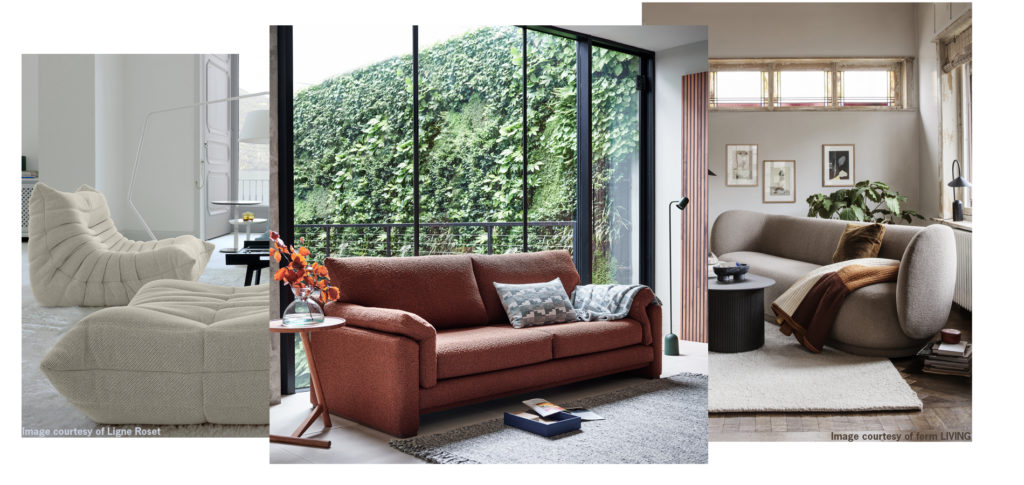 Shop these AW20 interior design trends

here

.