After what's seemed like months of winter, spring is finally in the air, and with it lighter, brighter days. From decluttering spaces to organising rooms, spring-cleaning will set you in good stead for the season, helping you to create a harmonious home. After all, is there anything more relaxing than knowing everything's in order? Whether The Home Edit or Marie Kondo, sorting has never been more in-vogue, and it's not a moment too soon. Here, we round-up the ways you can master the art of storage, satisfaction guaranteed.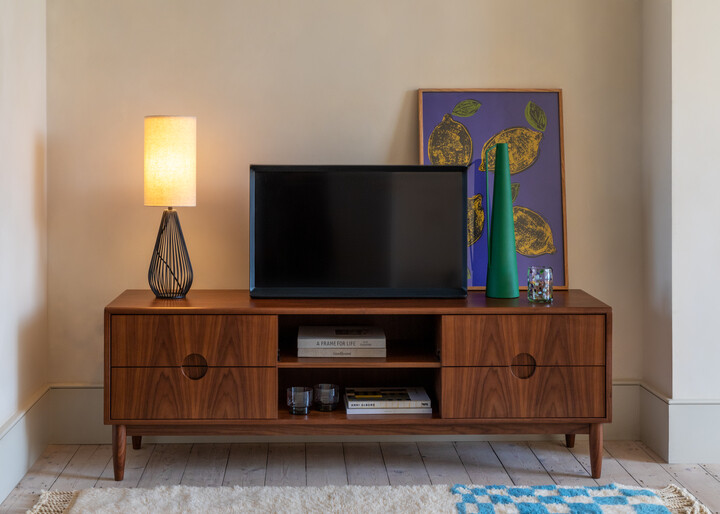 Tidy your TV
Find yourself staring at clutter rather than the screen when you're watching a movie? It's time to swap out your TV unit with one that helps conceal unsightly cables and electronics. New for Spring Summer '23, the Amira AV unit – designed by Adam Daghorn – is inspired by classic Mid-Century styling. Blending form and function, its handsome solid and veneered walnut in rich chocolate is matched by generous storage, featuring four drawers with soft edges that enable everything to be hidden away to create a clean line of sight. Better still, two open shelves mean you can still display a select edit, from covetable tomes to objets d'art.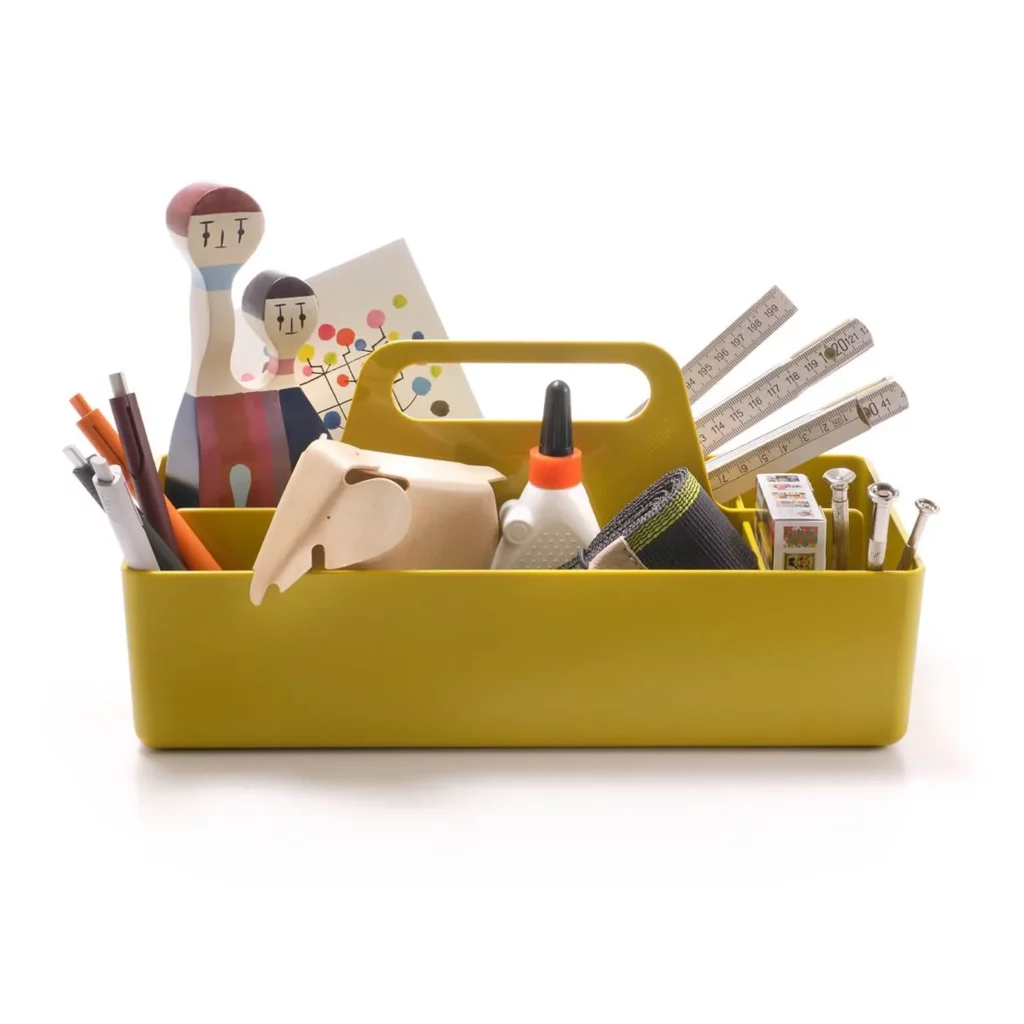 Organise those odds and ends
Sometimes, it's not the bigger items that cause the most chaos, but the odds and ends that usually end up in a designated drawer of doom in the kitchen (we've all got one). The Toolbox by Vitra is just the thing to help you tidy those bits and pieces. Available in a range of colours – from tangerine orange to pale rose and sea blue – each features six compartments within a handy grab-and-go caddy, and can be stored in a cabinet or on a shelf. Whether stationery, batteries or coins – you name it – categorise and contain items with a single practical but pretty organisational tool.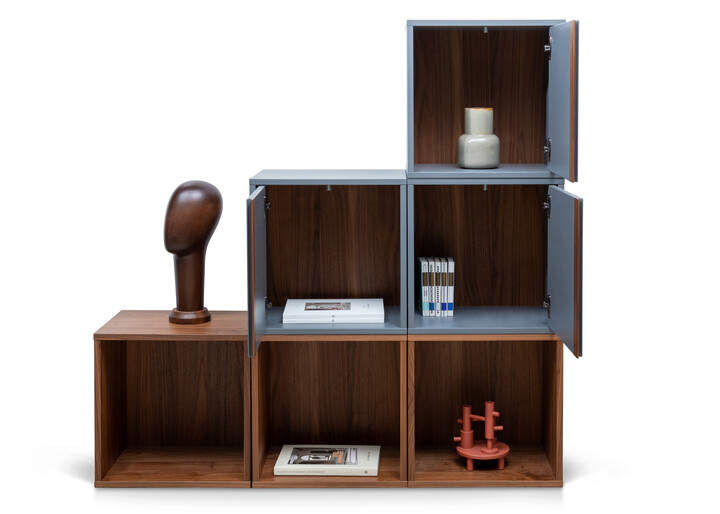 Sort your shelves
Storage can be stylish when you group items together, rather than have them scattered throughout a space, and the Lars shelving module – part of our new-season collection – is a case in point. Designed by Danish studio Says Who exclusively for Heal's, the blocks can be configured in a number of creative ways, flexing according to the needs of your storage requirements. Versatile pieces for the wall or floor, simply choose how many you need – and a finish in either contemporary grey or classic walnut – to customise accordingly. We like a combination of both colours arranged vertically up a wall, featuring a mix of open and closed modules, to accommodate a curation of striking vases neatly and beautifully. Alternatively, if you don't want to design your own solution, invest in a ready-made shelving unit, such as the Eames ESU shelf by Vitra – a timeless and practical design – or Agnes high shelving unit by SCP, a Scandi-inspired take on shelving.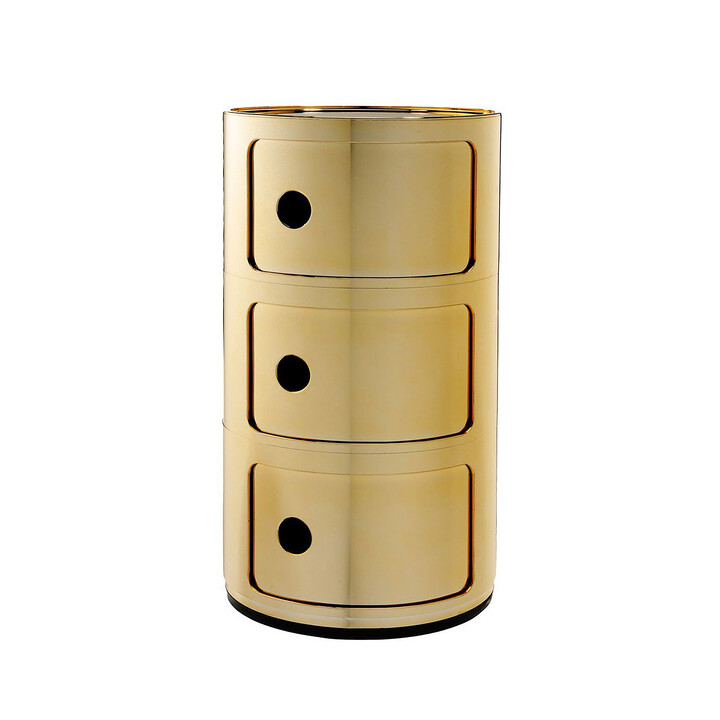 Declutter your bedsides
From jewellery to electronics and books, a bedside table without storage capabilities can quickly accumulate all manner of unwanted accoutrement, but with the Componibili cabinet everything can be easily kept out of sight. The design classic from Kartell is made from renewable raw materials and features slide-open doors to reveal spacious compartments within a sleek circular form that fits neatly into even the tightest of spaces. Select from a spectrum of shades – black, gold, green or red, amongst others – and make a statement or blend seamlessly.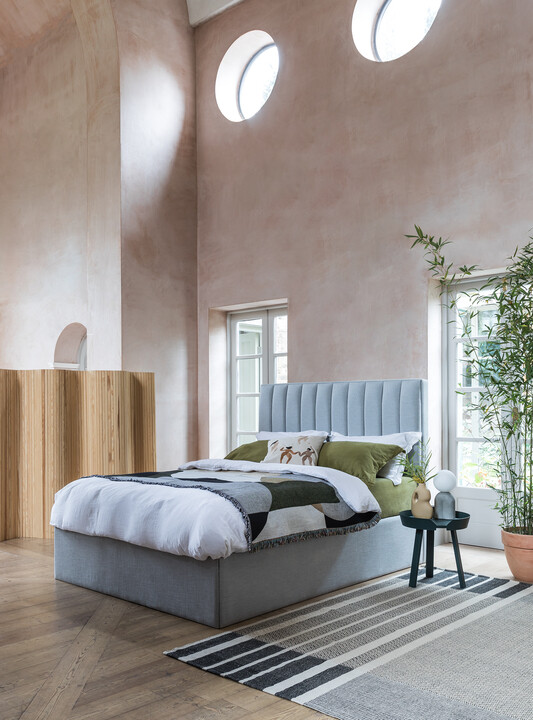 3 more tips
1 Bolster the storage in your bedroom with a bed that offers somewhere for clothes, towels and bedding within a clever design. Simply lift the base, store and conceal without taking up valuable floor space.
2 Bathrooms should be kept clean and clutter-free to keep them calm and relaxing. This bathroom storage stand will help you do just that with deep trays in sustainably-sourced oak or bamboo that offer a well-designed home for everyday items.
3 Coffee tables can become a dumping ground for everything from cups to magazines, but this table features a shelf made from tightly-woven rope beneath the glass top for storing said items while keeping the surface pleasingly clutter-free.