Nowhere in the house brings as much warmth and pleasure as a cosy living room. It's the place you get together as a family, entertain guests and unwind in front of your favourite film. So, it goes without saying that you want your living space to be as comfortable and inviting as possible.
With winter nipping at our toes as early as October, a snug living room is high on the priority list. After all, the cold is best enjoyed from the warmth of your home. With that in mind, here are our top five ways to create a cosy living room in time for winter.
Cosy Living Room Furniture in Modern Homes
The idea of marble floors, concrete walls and slick wooden storage don't scream comfortable. However, with some clever styling you can easily create a cosy living room in your modern home.
To create a cosy living space in large, open-plan home, we suggest creating pockets of activity. That could be placing a sofa with ottomans in front of the TV or armchairs to form a reading nook. You could even create a workspace with a desk and a chair, or a music area with a instruments and stools. This instantly adds character and personalises the space, while also creating the illusion of several smaller rooms in one.
In this cosy living room idea, we've used a rug to highlight the living room space. This adds a little more texture underfoot but also identifies the area as the lounge. If you're creating a cosy living room on a budget, then this is a great way to save some pennies. Add a plush sofa with rich velvet upholstery and wooden accents to make it feel even more relaxing. Plus, accessories like cushions, dimmable lighting and sheepskin upholstery will add a Scandinavian cosiness to your living room.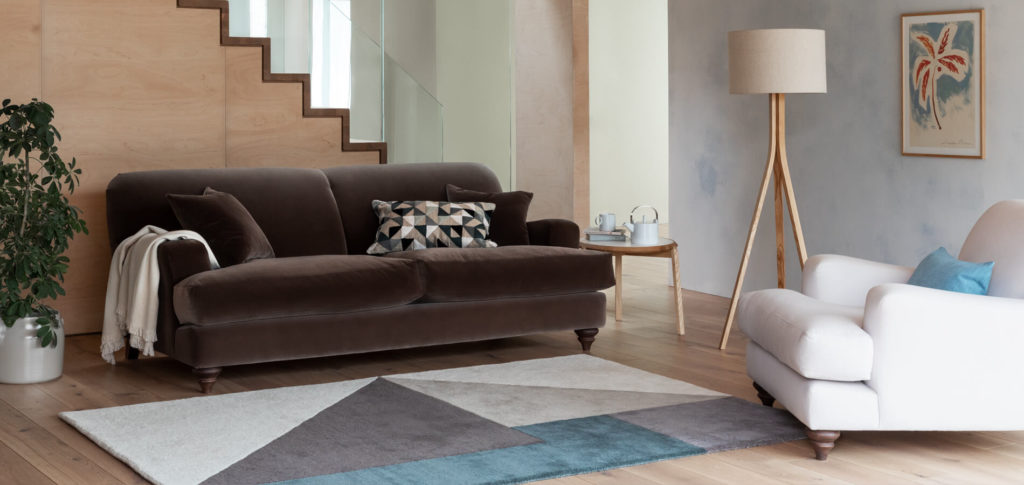 Lighting for Cosy Living Rooms
When creating a cosy atmosphere in your living room, finding the right lighting is crucial. That's because lighting plays a big part in creating a room's mood. From the bulbs to the shades to where your lights are positioned, every detail counts.
Subdued, low lighting tends to convey more warmth than bright, ceiling lighting, making it perfect for a cosy living room. Warm, natural light bulbs, ethereal lamps and cleverly placed spotlights are key to creating this ambience. See how the Michael Anastassiades lamp in our cosy living room idea casts a warm glow in the space? That's what your lighting should achieve. Remember, even lamps made from cooler materials like concrete or marble can warm up a room, with the right bulb.
Candles are another good option for making a room look cosy. They create a gentle, flickering light that lends a sense of intimacy to your living room. Place them on a mantelpiece, a side table or a decorative tray. Choose candle holders made from materials that enhance the warmth, like ceramics and wood.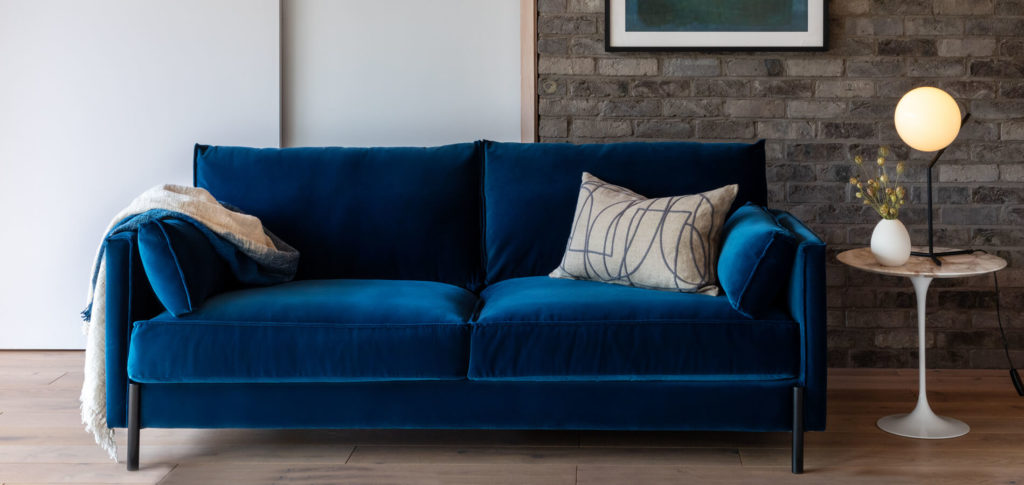 Why Texture Matters in a Living Room
Layers and textures give your living room depth and warmth. Anything from sheepskin to bouclé will make your room feel more inviting. Mixing and matching different textures together will also make your space feel cosier whilst still looking stylish.
The best part is, if you aren't in the market for a new sofa or armchair then you can still achieve this look. All it takes is some clever styling. Throw together an assortment of playful, mismatched cushions and drape sumptuous throws over your armchairs and sofas. A rug will also make your living room feel cosy, especially if you have tile or hardwood floors. In particular, thick pile rugs will add a little extra comfort. If your space is long and skinny, then we suggest a rectangular rug. If it's a wider room, then a circular or square rug would be our go to.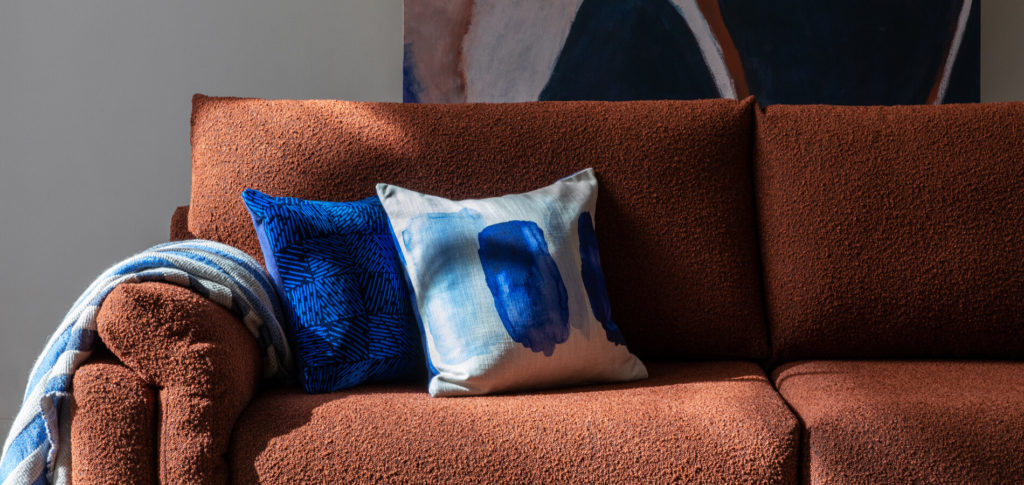 Dark Walls in a Cosy Home
Whilst bright white looks great in many homes, some rooms are screaming out for dark walls to create a cosy living room. And we don't mean a single dark feature wall, we're talking all four walls painted a dark shade.
Dark greens, blues and greys are all popular choices when it comes to dark walls. Take a look at your space, style and existing furniture to decide exactly which hue to choose. Plus, properly consider if dark walls are your cup of tea before getting the paint roller out. It'd be hard to repaint your walls light again after, so dark walls aren't for the faint hearted.
But painting your living room walls dark shouldn't mean sacrificing colour. We love the way this cosy living room idea creates contrasts with the fuchsia sofa. In a dark space with green walls, black fireplace and wooden floors, the pink sofa makes the room pop. Plus, the sumptuous velvet upholstery is a sure-fire way to feel cosy. Additional accessories like lighting, vases and flowers will also add some much-needed colour to your living room.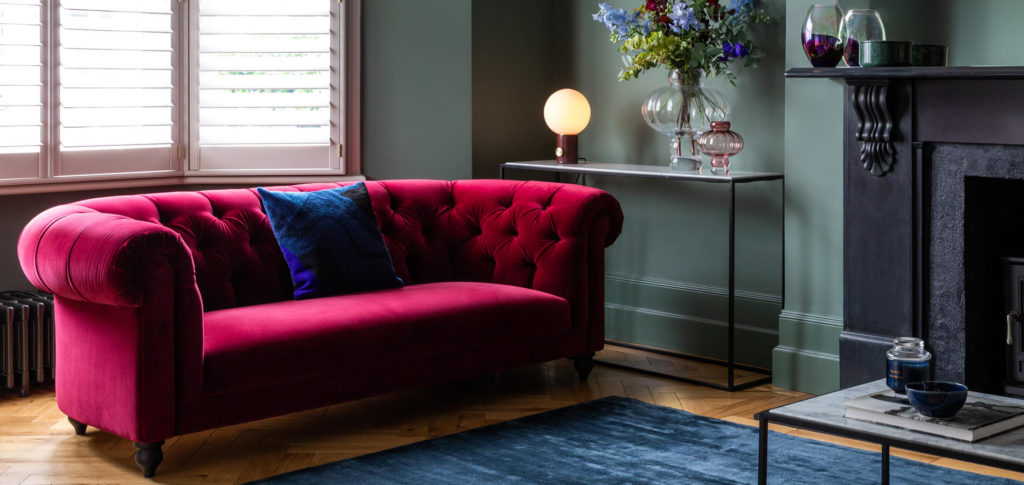 Use of Space in a Living Room
When we think of cosiness, we normally think of small rooms filled with comfy objects and soft lighting. However, you can still make a larger room look cosy with a few tricks.
You could try building seating around a focal point, like a fireplace or window to visually reduce the room's size. Clever optical illusions with tall living room furniture can also make the space feel smaller. Bookcases and standing shelves work well, as they take up space and give the impression of a smaller room.
Too much empty space can make a room feel cold. So, we suggest styling your living room with some of your favourite ornaments and objects to create a homely feel. Layer your shelves and tables with ceramic or glass vases and other decorative items like small sculptures and lacquered trays. To maximise visual impact, arrange them in a refined, natural way, rather than completely symmetrical.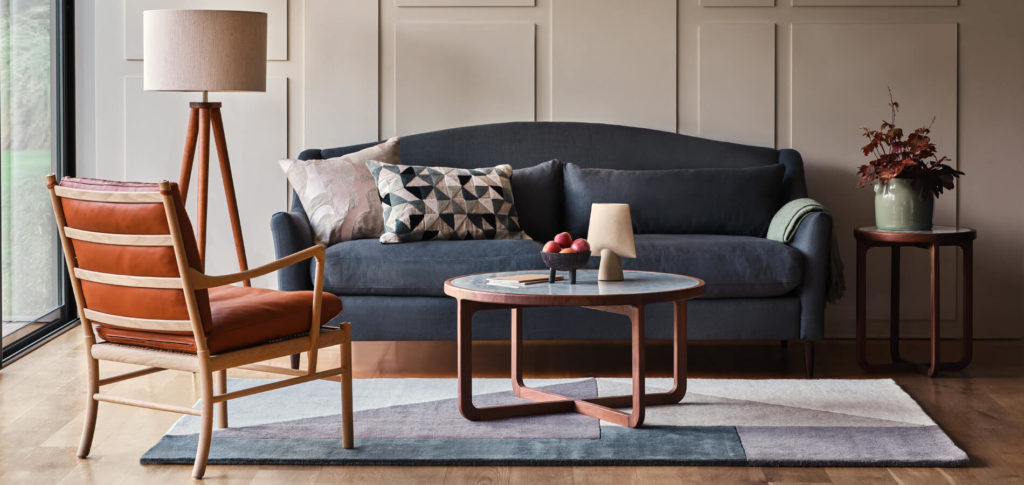 With these simple tips and some attention to detail, your living room will be cosy and comfy this winter. Snuggle under a blanket on your sofa or curl up with a good book and a cuppa in your armchair. You deserve it.
Shop Living Room Furniture.