Just like you'd throw on another layer on a particularly chilly day – a chunky cable-knit, or a soft pair of socks – cosying up your home for the winter follows the same principle. From changing-up your bedding with thicker, more textural choices, to layering your sofa with luxurious throws and cushions, there's an art to keeping warm over the coming months. Here, we show you the simple tips and tricks to stave off the cold, while adding plenty of style.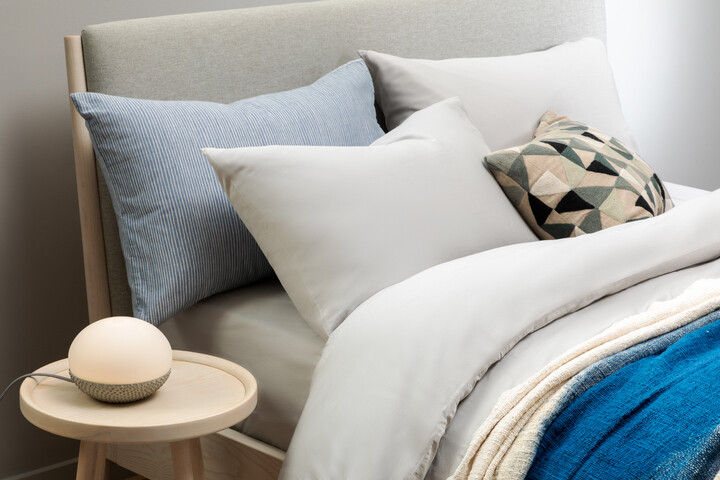 1. Bring on new bedding  
Whether curled up with a good book and a hot water bottle, or simply enjoying a lie-in with a cup of coffee listening to the pitter-patter of rain, there's plenty to stay in bed for during the coming months. But cool linen sheets just aren't going to cut it when it's chilly. Our Organic Cotton Sateen Bed Linen, in grey, petrol blue or white, is soft to the touch with a lustre finish. Made from 100% cotton in Portugal – and featuring a 200-thread-count weave – it's a treat for the senses. But layering shouldn't stop with your bed linen: pair with a thick and cosy Velvet Quilt in rich midnight blue or emerald green, sure to keep you warm this winter, while the addition of a tactile Sheepskin Rug makes for an even toastier space.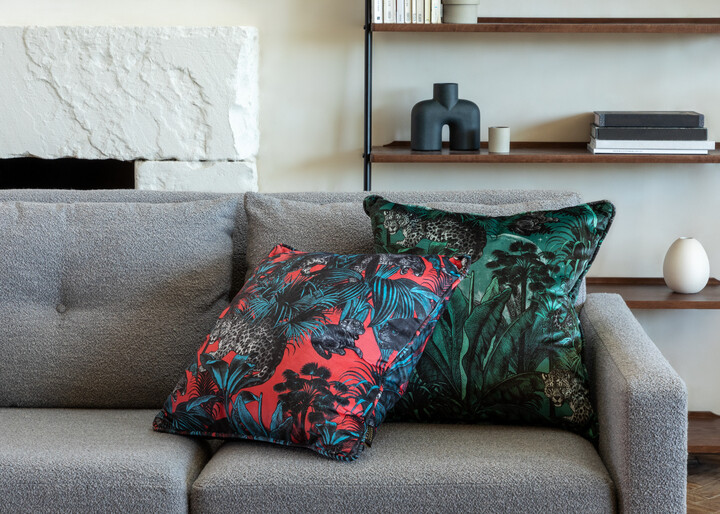 2. Shake-up your sofa 
From watching the next big box-set binge to enjoying a Saturday-night takeaway and cuddling-up with someone special, the sofa sets the stage for some of the season's cosiest moments. But a leather sofa can be cool to the touch while a living room without layers can leave you out in the cold. Luckily, a few easy updates can warm your sofa up effortlessly, whether a wool throw over the arm – this beautifully soft Pure Alpaca Throw in rich burgundy is spot-on – or a smattering of cushions on the seats (with bold prints and luxe fabrics, the cushions and bolsters from Divine Savages add depth and plushness). 
3. Roll out a carpet 
Treat your feet to something comfortable underfoot. Not only do rugs add interest and texture, but they retain the heat, too, ensuring bare floorboards work hard for the season. Go for a neutral palette in browns, creams and beiges to keep things grounded and earthy – the Chaddar Rug by GAN in toasty camel, for example, woven from a chunky and textured fabric while being beautifully hand-embroidered. With a boho vibe, it's sure to transport you to sunnier climes, while adding tactility. Otherwise, something rich and colourful warms things up equally well, whether the Kilim Rug Fez Red from Louis de Poortere – its coppery tones inspired by the sun-baked souks of Morocco – or the Alexandra Rug by Gan with its combination of shades, knots and embroidery cosying things up.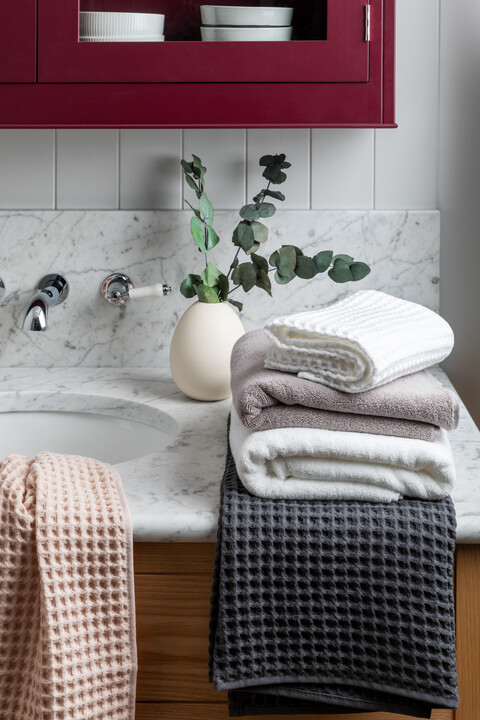 More ways to make your home cosy
1 It's not just textiles that provide comfort and warmth; layering up your lighting can have a similar effect, from table lamps to pendant lights and floor lamps in any given space, creating a cocooning vibe with different light sources at varying heights. 
2 It sounds obvious, but re-stocking your towel supply for the season ahead can make a huge difference, replacing thin and lightweight towels with thick and fluffy iterations to envelop you after another hot shower or soak in the bath. Hotel vibes, in an instant.
3 Lastly, invest in quality candles to light, whether it's for romantic dinners at the dining table or cosy nights on the sofa. It's amazing how the flicker of a flame can make you feel warmer, just by looking at it, while adding to the ambience.